Fitch Downgrades CIHL to 'B+' from 'BB-'; Outlook Stable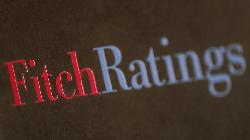 (The following statement was released by the rating agency) Fitch Ratings-Singapore/Mumbai-April 06: Fitch Ratings has downgraded the Long-Term Issuer Default Rating (IDR) of Cairn India (NS: CAIL ) Holdings Limited (CIHL) to 'B+' from 'BB-'. The Outlook is Stable. The downgrade follows a revision of our forecast for weaker economic growth stemming from the coronavirus pandemic, which is likely to pressure commodities. We have revised down our price assumptions for zinc, aluminium and, most notably, oil and gas (OG), which together contribute about 90% of Vedanta Resources Limited's (VRL, previously known as Vedanta Resources PLC) EBITDA; VRL is the parent of Vedanta Limited (VLTD), India's largest private upstream OG producer, which fully owns CIHL. CIHL's rating is aligned with the credit profile of VLTD, reflecting strong linkages in line with Fitch's Parent and Subsidiary Rating Linkage criteria. The Stable Outlook reflects our expectation that VLTD's credit profile should remain steady, with consolidated coverage (operating EBITDA/ (interest paid)) remaining above 2.0x from the financial year ending March 2022 (FY22). We assess CIHL's Standalone Credit Profile (SCP) at 'b+' due to its concentrated and small operating scale, which is counterbalanced by its low cost position and strong standalone financial profile. Key Rating Drivers Rating Aligned with Parent: Fitch assesses the operating and strategic linkages between CIHL and its parent, VLTD, as 'Strong'. VLTD fully owns CIHL and both entities hold equal 35% shares in the group's largest (OG) block in the north Indian state of Rajasthan. VLTD operates the Rajasthan block, in which Oil and Natural Gas (NS: ONGC ) Corporation Limited (ONGC) holds the remaining 30% stake. VLTD's OG business is its second-largest contributor to EBITDA, after the Indian zinc operation. We believe OG will remain strategically important to VLTD due to its low-cost operation and significant earnings contribution. Weakening Credit Metrics: Fitch expects VLTD's consolidated coverage, at 1.8 in FY21 and 2.1x in FY22, to be weaker than our previous expectations. This reflects a cut of 39% and 21% in our crude-oil price assumptions, a cut of 11% and 10% in our aluminium LME price assumptions and a cut of 15% and 7% in our Zinc LME price assumptions over FY21 and FY22, respectively. However, we expect the company's operations to improve over FY21-FY22 on cost rationalisation at VLTD's zinc and aluminium businesses and volume ramp-up post any temporary weakness due to the coronavirus pandemic, cushioning the effect of weaker prices. We forecast the cost of VLTD's aluminium production to fall to below USD1,500/tonne (t) over the next two years. VLTD's low-cost operations across key commodities should help it to defend its margins during the currently weak industry conditions; this underpins our Stable Outlook. Cash flow volatility is further lowered by VLTD's commodity diversification, with zinc, OG and aluminium contributing 47%, 32% and 9%, respectively, to FY19 EBITDA. OG Weakness: Fitch expects the EBITDA contribution from the OG business to drop by about 45% in FY21 and 20% in FY22 from our previous estimates due to falling oil prices and volume growth. We expect the lower oil prices to be partly offset by decreased operating expenses, as the cost of some raw materials is linked to the oil price. CIHL also expects further cost cuts, as contractor prices are typically negotiated lower in case of a persistent low oil-price environment. Capex Flexibility: VRL has the ability to defer capex for some of its OG and other mineral projects to mitigate a drop in cash flow from the low-price environment. We do not expect the company to proceed with certain big-ticket OG projects till the trajectory of oil prices reverses. The company also has flexibility in adjusting exploration capex. Nonetheless, its overall capex is still substantial, which, along with lower profitability from key business segments, is likely to result in neutral to negative free cash flow over the medium term. 'b+' SCP: CIHL's production scale - based on its 35% share of the Rajasthan OG block, where all fields are producing - is small, at about 60,000 barrels of oil equivalent per day (boepd). This is comparable with that of OG producers in the 'B' category. Fitch takes into consideration only CIHL's share in the Rajasthan block in assessing its SCP and does not factor in any benefit from VLTD's shares in and role as the operator of the block. CIHL, however, benefits from the low-cost structure of the Rajasthan block, with sustainable operating costs of around USD7.5/barrel (bbl) and finding and development costs of about USD5.0-6.0/bbl, with further flexibility to cut costs during a low-price environment. The cost position is significantly lower than that of peers and underpins CIHL's positive free cash flow, despite our forecast for lower oil prices, and its strong financial profile with a net cash position. ESG - Governance Structure: CIHL has an ESG Relevance Score of '4' for Governance Structure. Our assessment reflects the group's complex shareholding structure and the risk of cash leakage other than dividend distributions to parties outside of its ultimate parent, VRL. Our assessment does not factor in any cash leakage, aside from the dividends to VRL, but we are monitoring whether any group entities are further supporting Volcan Investment Limited, a shareholder of VRL. This follows a CIHL's investment in a Volcan structured product in January 2019, although the investment was subsequently unwound profitably in August 2019. VRL has since committed to abstain from similar transactions. Derivation Summary CIHL's ratings have been aligned to that of its parent, VLTD. Similarly, the rating on Thailand's PTT Exploration and Production Public Company Limited (BBB+/Stable) is equalised with that of its parent, PTT Public Company Limited (BBB+/Stable), reflecting Fitch's assessment of strong operating and strategic linkages between the two companies. Fitch also aligns India-based Hindustan Petroleum (NS: HPCL ) Corporation Limited's (BBB-/Stable) rating with the credit profile of its largest shareholder, ONGC, with the linkages between the two entities assessed as strong. Key Assumptions Fitch's Key Assumptions Within Our Rating Case for the Issuer Commodity prices to average as below in FY21, FY22 and FY23: - Zinc at USD1,925/t, USD2,000/t and USD2,000/t, respectively, and aluminium at USD1,570/t, USD1,650/t and USD1,825/t - 62 Fe CFR benchmark iron ore price to average at USD71/t, USD60/t and USD59/t, respectively - Brent crude to average at USD36/bbl, USD46/bbl and USD52/bbl, respectively Sales: - Zinc sales in India of 708 thousand tonnes (kt) in FY20, 786kt in FY21 and 913kt in FY22 as shaft commissioning at the Rampur Agucha mine supports a higher production run-rate. - Zinc sales in Gamsberg, South Africa, of 128kt in FY20, 200kt in FY21 and 235kt in FY22, as the quarterly production run-rate is ramping up to 45kt in 4QFY20, from around 25kt in 1QFY20. - Aluminium sales of 1,936kt in FY20, 2,003kt in FY21 and 2,063kt in FY22, supported by commissioning of new electrolysis pots and capacity ramp-up. - Per day oil production from Rajasthan block at 160,000 boepd for FY21 and FY22. Gas production from Rajasthan block of 130 million standard cubic feet per day (mmcfd) in FY21 and 187mmcfd in FY22. This reflects a gradual ramp-up of production at the projects, which have almost completed construction. Around a 29% EBITDA margin in FY20-FY22, as structural improvement in the cost of production at some minerals offsets the weakness in commodity prices. Capex of USD1.0 billion in FY21 at VRL, which is lower than our previous expectation of USD1.8 billion due to the coronavirus pandemic. Capex of USD1.4 billion in FY22 is unchanged. RATING SENSITIVITIES Factors That Could, Individually or Collectively, Lead to Positive Rating Action/Upgrade: - An improvement in VLTD's credit profile, provided the linkage between CIHL and VLTD remains strong, could result in the Outlook being revised to Stable Factors That Could, Individually or Collectively, Lead to Negative Rating Action/Downgrade: - Weakening of linkages between CIHL and VLTD - Deterioration in VLTD's credit profile, liquidity and debt structure Best/Worst Case Rating Scenario Ratings of non-financial corporate issuers have a best-case rating upgrade scenario (defined as the 99th percentile of rating transitions, measured in a positive direction) of three notches over a three-year rating horizon; and a worst-case rating downgrade scenario (defined as the 99th percentile of rating transitions, measured in a negative direction) of four notches over three years. The complete span of best- and worst-case scenario credit ratings for all rating categories ranges from 'AAA' to 'D'. Best- and worst-case scenario credit ratings are based on historical performance. For more information about the methodology used to determine sector-specific best- and worst-case scenario credit ratings, visit www.fitchratings.com/site/re/10111579 Liquidity and Debt Structure Adequate Liquidity Position: We expect CIHL to maintain sufficient liquidity to repay its amortising loan due at the subsidiary level with internal cash flow without any refinancing support. Free cash flow should remain positive and sufficient to take care of the loan's repayment schedule, given the deferment of capex in FY21, even during the low oil-price environment. Criteria Variation Fitch applied its Parent and Subsidiary Rating Linkage criteria to derive the credit profile of VLTD. Where we assess 'Strong' or 'Moderate' linkages between a weaker parent and stronger subsidiary, the criteria establishes that the IDRs for both are likely to be based on the consolidated credit profile. VRL's fully consolidated financials reflect cash leakages to significant minority shareholders in its key assets, notably VLTD. Fitch believes that VLTD's creditors have better access to its operating cash flow as compared with VRL and there are some limits on cash leakages. These support VLTD's credit profile being assessed as better than the consolidated group profile. REFERENCES FOR SUBSTANTIALLY MATERIAL SOURCE CITED AS KEY DRIVER OF RATING The principal sources of information used in the analysis are described in the Applicable Criteria. ESG Considerations CIHL has an ESG Relevance Score of 4 for Governance Structure, which reflects issues related to overall board structure and composition and effective management control. Except for the matters discussed above, the highest level of ESG credit relevance, if present, is a score of 3. This means ESG issues are credit-neutral or have only a minimal credit impact on the entity(ies), either due to their nature or to the way in which they are being managed by the entity(ies). For more information on Fitch's ESG Relevance Scores, visit www.fitchratings.com/esg Cairn India Holdings Limited; Long Term Issuer Default Rating; Downgrade; B+; RO:Sta Contacts: Primary Rating Analyst Shubha Sethi, CFA Associate Director +65 6796 7245 Fitch Ratings Singapore Pte Ltd. One Raffles Quay #22-11, South Tower Singapore 048583 Secondary Rating Analyst Mohit Soni, Associate Director +91 22 4035 6163 Committee Chairperson Vicky Melbourne, Senior Director +61 2 8256 0325
Media Relations: Leslie Tan, Singapore, Tel: +65 6796 7234, Email: leslie.tan@thefitchgroup.com; Bindu Menon, Mumbai, Tel: +91 22 4000 1727, Email: bindu.menon@fitchratings.com. Additional information is available on www.fitchratings.com Applicable Criteria Corporate Rating Criteria (pub. 27 Mar 2020) (including rating assumption sensitivity) https://www.fitchratings.com/site/re/10111917 Parent and Subsidiary Rating Linkage (pub. 27 Sep 2019) https://www.fitchratings.com/site/re/10089196 Sector Navigators-Addendum to the Corporate Rating Criteria (pub. 27 Mar 2020) https://www.fitchratings.com/site/re/10112524 Applicable Model Numbers in parentheses accompanying applicable model(s) contain hyperlinks to criteria providing description of model(s). Corporate Monitoring & Forecasting Model (COMFORT Model), v7.8.0 1-https://www.fitchratings.com/site/re/968880 Additional Disclosures Dodd-Frank Rating Information Disclosure Form https://www.fitchratings.com/site/dodd-frank-disclosure/10116883 Solicitation Status https://www.fitchratings.com/site/pr/10116883#solicitation Endorsement Status https://www.fitchratings.com/site/pr/10116883#endorsement_status Endorsement Policy https://www.fitchratings.com/regulatory ALL FITCH CREDIT RATINGS ARE SUBJECT TO CERTAIN LIMITATIONS AND DISCLAIMERS. PLEASE READ THESE LIMITATIONS AND DISCLAIMERS BY FOLLOWING THIS LINK: HTTPS://WWW.FITCHRATINGS.COM/UNDERSTANDINGCREDITRATINGS. IN ADDITION, THE FOLLOWING https://www.fitchratings.com/site/dam/jcr:6b03c4cd-611d-47ec-b8f1-183c01b51b08/R ating%20Definitions%20-%203%20May%202019%20v3%206-11-19.pdf DETAILS FITCH'S RATING DEFINITIONS FOR EACH RATING SCALE AND RATING CATEGORIES, INCLUDING DEFINITIONS RELATING TO DEFAULT. PUBLISHED RATINGS, CRITERIA, AND METHODOLOGIES ARE AVAILABLE FROM THIS SITE AT ALL TIMES. FITCH'S CODE OF CONDUCT, CONFIDENTIALITY, CONFLICTS OF INTEREST, AFFILIATE FIREWALL, COMPLIANCE, AND OTHER RELEVANT POLICIES AND PROCEDURES ARE ALSO AVAILABLE FROM THE CODE OF CONDUCT SECTION OF THIS SITE. DIRECTORS AND SHAREHOLDERS RELEVANT INTERESTS ARE AVAILABLE AT HTTPS://WWW.FITCHRATINGS.COM/SITE/REGULATORY. FITCH MAY HAVE PROVIDED ANOTHER PERMISSIBLE SERVICE TO THE RATED ENTITY OR ITS RELATED THIRD PARTIES. DETAILS OF THIS SERVICE FOR RATINGS FOR WHICH THE LEAD ANALYST IS BASED IN AN EU-REGISTERED ENTITY CAN BE FOUND ON THE ENTITY SUMMARY PAGE FOR THIS ISSUER ON THE FITCH WEBSITE. Copyright © 2020 by Fitch Ratings, Inc., Fitch Ratings Ltd. and its subsidiaries. 33 Whitehall Street, NY, NY 10004. Telephone: 1-800-753-4824, (212) 908-0500. Fax: (212) 480-4435. Reproduction or retransmission in whole or in part is prohibited except by permission. All rights reserved. In issuing and maintaining its ratings and in making other reports (including forecast information), Fitch relies on factual information it receives from issuers and underwriters and from other sources Fitch believes to be credible. Fitch conducts a reasonable investigation of the factual information relied upon by it in accordance with its ratings methodology, and obtains reasonable verification of that information from independent sources, to the extent such sources are available for a given security or in a given jurisdiction. The manner of Fitch's factual investigation and the scope of the third-party verification it obtains will vary depending on the nature of the rated security and its issuer, the requirements and practices in the jurisdiction in which the rated security is offered and sold and/or the issuer is located, the availability and nature of relevant public information, access to the management of the issuer and its advisers, the availability of pre-existing third-party verifications such as audit reports, agreed-upon procedures letters, appraisals, actuarial reports, engineering reports, legal opinions and other reports provided by third parties, the availability of independent and competent third- party verification sources with respect to the particular security or in the particular jurisdiction of the issuer, and a variety of other factors. Users of Fitch's ratings and reports should understand that neither an enhanced factual investigation nor any third-party verification can ensure that all of the information Fitch relies on in connection with a rating or a report will be accurate and complete. Ultimately, the issuer and its advisers are responsible for the accuracy of the information they provide to Fitch and to the market in offering documents and other reports. In issuing its ratings and its reports, Fitch must rely on the work of experts, including independent auditors with respect to financial statements and attorneys with respect to legal and tax matters. Further, ratings and forecasts of financial and other information are inherently forward-looking and embody assumptions and predictions about future events that by their nature cannot be verified as facts. As a result, despite any verification of current facts, ratings and forecasts can be affected by future events or conditions that were not anticipated at the time a rating or forecast was issued or affirmed. The information in this report is provided "as is" without any representation or warranty of any kind, and Fitch does not represent or warrant that the report or any of its contents will meet any of the requirements of a recipient of the report. A Fitch rating is an opinion as to the creditworthiness of a security. This opinion and reports made by Fitch are based on established criteria and methodologies that Fitch is continuously evaluating and updating. Therefore, ratings and reports are the collective work product of Fitch and no individual, or group of individuals, is solely responsible for a rating or a report. The rating does not address the risk of loss due to risks other than credit risk, unless such risk is specifically mentioned. Fitch is not engaged in the offer or sale of any security. All Fitch reports have shared authorship. Individuals identified in a Fitch report were involved in, but are not solely responsible for, the opinions stated therein. The individuals are named for contact purposes only. A report providing a Fitch rating is neither a prospectus nor a substitute for the information assembled, verified and presented to investors by the issuer and its agents in connection with the sale of the securities. Ratings may be changed or withdrawn at any time for any reason in the sole discretion of Fitch. Fitch does not provide investment advice of any sort. Ratings are not a recommendation to buy, sell, or hold any security. Ratings do not comment on the adequacy of market price, the suitability of any security for a particular investor, or the tax-exempt nature or taxability of payments made in respect to any security. Fitch receives fees from issuers, insurers, guarantors, other obligors, and underwriters for rating securities. Such fees generally vary from US$1,000 to US$750,000 (or the applicable currency equivalent) per issue. In certain cases, Fitch will rate all or a number of issues issued by a particular issuer, or insured or guaranteed by a particular insurer or guarantor, for a single annual fee. Such fees are expected to vary from US$10,000 to US$1,500,000 (or the applicable currency equivalent). The assignment, publication, or dissemination of a rating by Fitch shall not constitute a consent by Fitch to use its name as an expert in connection with any registration statement filed under the United States securities laws, the Financial Services and Markets Act of 2000 of the United Kingdom, or the securities laws of any particular jurisdiction. Due to the relative efficiency of electronic publishing and distribution, Fitch research may be available to electronic subscribers up to three days earlier than to print subscribers. For Australia, New Zealand, Taiwan and South Korea only: Fitch Australia Pty Ltd holds an Australian financial services license (AFS license no. 337123) which authorizes it to provide credit ratings to wholesale clients only. Credit ratings information published by Fitch is not intended to be used by persons who are retail clients within the meaning of the Corporations Act 2001 Fitch Ratings, Inc. is registered with the U.S. Securities and Exchange Commission as a Nationally Recognized Statistical Rating Organization (the "NRSRO"). While certain of the NRSRO's credit rating subsidiaries are listed on Item 3 of Form NRSRO and as such are authorized to issue credit ratings on behalf of the NRSRO (see https://www.fitchratings.com/site/regulatory), other credit rating subsidiaries are not listed on Form NRSRO (the "non-NRSROs") and therefore credit ratings issued by those subsidiaries are not issued on behalf of the NRSRO. However, non-NRSRO personnel may participate in determining credit ratings issued by or on behalf of the NRSRO.
Comment Guidelines
We encourage you to use comments to engage with users, share your perspective and ask questions of authors and each other. However, in order to maintain the high level of discourse we've all come to value and expect, please keep the following criteria in mind:
Enrich

the conversation

Stay focused and on track.

Only post material that's relevant to the topic being discussed.

Be respectful.

Even negative opinions can be framed positively and diplomatically.

Use standard writing style.

Include punctuation and upper and lower cases.

NOTE

: Spam and/or promotional messages and links within a comment will be removed

Avoid profanity, slander or personal attacks

directed at an author or another user.
Don't Monopolize the Conversation. We appreciate passion and conviction, but we also believe strongly in giving everyone a chance to air their thoughts. Therefore, in addition to civil interaction, we expect commenters to offer their opinions succinctly and thoughtfully, but not so repeatedly that others are annoyed or offended. If we receive complaints about individuals who take over a thread or forum, we reserve the right to ban them from the site, without recourse.
Only English comments will be allowed.
Perpetrators of spam or abuse will be deleted from the site and prohibited from future registration at Investing.com's discretion.