Fitch Affirms OIL at 'BBB-'; Outlook Negative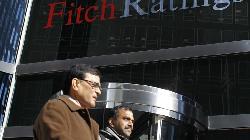 (The following statement was released by the rating agency) Fitch Ratings-Singapore/Mumbai-19 March 2021: Fitch Ratings has affirmed Oil India Limited (NS: OILI )'s (OIL) Long-Term Foreign-Currency Issuer Default Rating (IDR), senior unsecured rating and the rating on its outstanding senior unsecured debt at 'BBB-'. Fitch has also affirmed OIL's subsidiary Oil India International Pte. Ltd.'s (OIIPL) Long-Term Foreign-Currency IDR and the rating on its US dollar senior unsecured notes at 'BBB-'. The Outlook for the IDRs is Negative. The Negative Outlook reflects that on the Indian sovereign. We have maintained OIL's Standalone Credit profile (SCP) at 'bb+', which continues to reflect the company's low-cost position, concentrated operations and smaller scale compared with similarly rated peers. OIL's IDR benefits from a one-notch uplift from the SCP due to our assessment of 'Strong' state linkages and the government's incentive to provide support under our Government-Related Entities (GRE) Rating Criteria. OIL has bid to acquire Bharat Petroleum (NS: BPCL ) Corporation Limited's (BPCL, BBB-/Negative) 61.65% stake in Numaligarh Refinery Limited (NRL) as part of a consortium with Engineers India (NS: ENGI ) Limited (EIL). OIL's final effective stake is contingent on government of Assam's right of first offer to acquire up to 26% in NRL, from12.35% currently. In our view, NRL's strong downstream operations should benefit OIL's business profile. However, OIL's financial profile could deteriorate on account of NRL's large capacity expansion plans in addition to any execution risk relating to the expansion. Fitch will assess OIL's SCP upon further clarity on NRL's expansion plans, including costs and timelines upon completion of NRL acquisition. Key Rating Drivers Proposed Acquisition to Boost Business Profile: We expect OIL's business profile to benefit should it acquire majority stake in NRL from enhanced downstream integration and scale. NRL has little debt and its annual EBITDA of INR38 billion-40 billion is almost equivalent to our forecast EBITDA for OIL of INR42 billion-43 billion from the financial year ending March 2022 (FY22) and beyond. This should provide a hedge to OIL's earnings, as refiners are typically less exposed to oil-price volatility. NRL also has a stronger gross refining margin due to its moderate complexity and tax benefits. NRL Expansion; Execution Risks: We believe NRL's plans to expand its capacity to 9 million tonnes per annum by 2024, from the current 3 million, by installing a parallel refinery could pose execution risks, considering the nature of the project and the geography. The project is expected to cost about INR230 billion (USD3.1 billion), with a completion time of around four years, as per media reports. We will evaluate the project's impact on OIL's SCP once there is further clarity post completion of the NRL acquisition. Evolving Financial Profile: Fitch expects OIL's pre-acquisition net leverage, as measured by net debt/operating EBITDA, to remain stable at around 1.7x-2.4x in the medium term, after peaking at about 3.3x in FY21 on account of low oil prices. Free cash flow is likely to remain marginally negative due to high exploration and development capex requirements. We expect OIL to benefit from these investments, which support the state's objective to cut imports by augmenting domestic production and reserves. NRL's acquisition cost is likely to only marginally increase OIL's leverage, but the refinery expansion could significantly weaken its credit metrics over the project execution period. Strong State Linkages: We assess OIL's status, ownership and control by the sovereign as 'Strong'. The state directly owns 56.66% of the company and appoints its chairman and managing director, board representatives and independent directors. This enables the government to exert control over OIL and implement its socio-economic objectives related to the oil and gas industry. OIL has not received tangible financial support from the government due to its adequate financial profile, but it has received indirect support in sourcing acquisitions. Strong Incentive for State Support: Fitch believes the likelihood of state support for OIL is strong due to the company's strategic significance in India's upstream oil sector. We regard OIL as a key GRE, as the financial implications of a default by OIL would be significant for the state and make funding difficult for other GREs. However, we believe the socio-political implications of default are moderate in light of OIL's small size; it contributes less than 10% to India's crude oil production. Low Cost Position; Small Scale : OIL's cash flow benefits from its low-cost structure; its lifting costs, at USD12.9/barrel (bbl) in FY20 (FY19: USD13/bbl), and finding and development cost, at USD6.9/bbl in FY20 (FY19: USD6.7/bbl), are on average 40%-50% lower than that of global peers. Current production is around 157,000 boe per day (boepd), which we expect to marginally increase to around 166,000-172,000 boepd in FY23 and FY24, supported by OIL's initiatives to augment production from existing fields. Improving Overseas Diversification: Fitch expects the contribution from OIL's overseas projects to increase in the next four years, as the Mozambique project is set to begin generating revenue by 2024. Currently, about 26% of OIL's total oil and gas production comes from its overseas assets, primarily in Russia. We expect OIL's overseas investments to remain low over the next three years, as the company plans to make minimal equity injections into its Mozambique project after the project closed on a USD16 billion project financing deal. OIIPL's Strong Linkages to OIL: Fitch equalises OIIPL's rating with that of its parent, OIL, due to strong linkages between the two entities under Fitch's Parent and Subsidiary Rating Linkage criteria. OIL guarantees all of OIIPL's debt, oversees its operation and appoints its senior management. OIIPL's debt was primarily taken for OIL's investments in Russia and the subsidiary holds OIL's stake in the two Russian oil and gas assets. These are OIL's second-largest overseas investments after Mozambique and contribute about 26% to its total production. Derivation Summary OIL's closest GRE peers include Indian Oil (NS: IOC ) Corporation Ltd (IOC, BBB-/Negative) and Thailand-based PTT Public Company Limited (BBB+/Stable). Fitch views the status, ownership and control between IOC and India, along with the state's support record and expectations, as 'Strong', similarly to OIL. However, IOC's socio-political implications of a default are assessed as 'Very Strong', compared with 'Moderate' for OIL, as IOC is India's largest downstream oil and gas company, while OIL's contribution to the country's overall oil and gas requirements is limited. The financial implications of default are assessed as 'Strong' for both companies. We assess PTT's status, ownership and control factor as 'Moderate', against 'Strong' for OIL, as we believe the degree of government involvement in PTT's operations, investments and financing is lower than for other major state-owned oil and gas companies in Asia, including OIL. The support record and expectations factor is 'Strong' for both PTT and OIL, as we expect each company's government to provide support, if needed. The socio-political impact of a default is measured as 'Strong' for PTT, against OIL's 'Moderate', reflecting PTT's higher importance to Thailand's natural gas supply as compared with OIL's limited contribution to India's domestic oil demand. The financial implications of default for both entities is assessed as 'Strong', as they are key bond issuers and borrowers and a default would make funding difficult for other domestic GREs. OIL's SCP is comparable with the rating of Murphy Oil Corporation (NYSE: MUR ) (BB+/Negative), which has a similar production scale of 185,000 boepd and reserve size of 825 million boe. Murphy has a more geographically diversified asset base and better financial profile, but this is counterbalanced by OIL's significantly lower production costs. The Negative Outlook on Murphy is driven by the possibility of low liquidity in the event of low commodity prices. OIL's finding and development costs compare favourably against those of most global investment-grade peers, such as Hess Corporation (NYSE: HES ) (BBB-/Stable) and Continental Resources Inc. (BBB-/Negative), which have production of above 300,000 boepd. This is offset by OIL's smaller production scale, which also reflects its concentrated reserve base, justifying its SCP of 'bb+'. Key Assumptions Oil volume to increase by 5% in FY22 and FY23, then 0.5% thereafter (FY20: 3.06MMT). Gas volumes to increase by 20% in FY22, 10% in FY23 and 5% in FY24 (FY20:2.40bcm). Oil price assumptions in line with Fitch's price deck with Brent at USD58/bbl in 2021 and 2022 then USD53/bbl thereafter. Gas prices incorporating Fitch's price deck adjusted for India's price mechanism. Capex of INR40,000 million-41,000 million between FY22-FY24. Dividend payout ratio of around 60% (FY20:30%) Dividends from overseas investments of about USD90 million-95 million a year RATING SENSITIVITIES Factors that could, individually or collectively, lead to positive rating action/upgrade:- -The Outlook is Negative and we therefore do not expect positive rating action. The Outlook will be revised to Stable if our Outlook on the sovereign is revised to Stable, provided the likelihood of support from the state remains unchanged and OIL's SCP does not weaken below 'bb+'. -An upward revision of the SCP may result if net leverage, measured by net debt/operating EBITDA, decreases sustainably below 2.0x or there is a significant improvement in OIL's business profile, including integration across the value chain and a larger production and reserve profile with greater geographical diversification. Factors that could, individually or collectively, lead to negative rating action/downgrade: -A downgrade of the sovereign rating. - A lowering of OIL's SCP may result if net leverage increases to above 3x. If the SCP falls to 'bb' or below, OIL's IDR would be rated top down minus 1 from the sovereign rating, as long as the SCP is up to three notches away from the government, in line with Fitch's GRE criteria. Best/Worst Case Rating Scenario International scale credit ratings of Non-Financial Corporate issuers have a best-case rating upgrade scenario (defined as the 99th percentile of rating transitions, measured in a positive direction) of three notches over a three-year rating horizon; and a worst-case rating downgrade scenario (defined as the 99th percentile of rating transitions, measured in a negative direction) of four notches over three years. The complete span of best- and worst-case scenario credit ratings for all rating categories ranges from 'AAA' to 'D'. Best- and worst-case scenario credit ratings are based on historical performance. For more information about the methodology used to determine sector-specific best- and worst-case scenario credit ratings, visit https://www.fitchratings.com/site/re/10111579. Liquidity and Debt Structure Extended Maturity Profile: OIL's pre-NRL acquisition liquidity position is healthy, as it does not have any major debt maturing in next three years; OIL's next major debt maturity is a USD500 million bond due 2024, giving it an extended maturity profile. In our view, the company has good access to international bond markets and strong relationship with domestic banks. REFERENCES FOR SUBSTANTIALLY MATERIAL SOURCE CITED AS KEY DRIVER OF RATING The principal sources of information used in the analysis are described in the Applicable Criteria. ESG Considerations Unless otherwise disclosed in this section, the highest level of ESG credit relevance is a score of '3'. This means ESG issues are credit-neutral or have only a minimal credit impact on the entity, either due to their nature or the way in which they are being managed by the entity. For more information on Fitch's ESG Relevance Scores, visit www.fitchratings.com/esg Oil India Limited; Long Term Issuer Default Rating; Affirmed; BBB-; Rating Outlook Negative ----senior unsecured; Long Term Rating; Affirmed; BBB- Oil India International Pte. Ltd.; Long Term Issuer Default Rating; Affirmed; BBB-; Rating Outlook Negative ----senior unsecured; Long Term Rating; Affirmed; BBB- Contacts: Primary Rating Analyst Shubha Sethi, CFA Associate Director +65 6796 7245 Fitch Ratings Singapore Pte Ltd. One Raffles Quay #22-11, South Tower Singapore 048583 Secondary Rating Analyst Mohit Soni, Associate Director +91 22 4035 6163 Committee Chairperson Muralidharan Ramakrishnan, Senior Director +65 6796 7236 Media Relations: Leslie Tan, Singapore, Tel: +65 6796 7234, Email: leslie.tan@thefitchgroup.com Peter Hoflich, Singapore, Tel: +65 6796 7229, Email: peter.hoflich@thefitchgroup.com Bindu Menon, Mumbai, Tel: +91 22 4000 1727, Email: bindu.menon@fitchratings.com Additional information is available on www.fitchratings.com Applicable Model Numbers in parentheses accompanying applicable model(s) contain hyperlinks to criteria providing description of model(s). Corporate Monitoring & Forecasting Model (COMFORT Model), v7.9.0 (1 (https://www.fitchratings.com/site/re/986772)) Additional Disclosures Dodd-Frank Rating Information Disclosure Form (https://www.fitchratings.com/site/dodd-frank-disclosure/10156012) Solicitation Status (https://www.fitchratings.com/site/pr/10156012#solicitation-status) Additional Disclosures For Unsolicited Credit Ratings (https://www.fitchratings.com/site/pr/10156012#unsolicited-credit-ratings-disclosures) Endorsement Status (https://www.fitchratings.com/site/pr/10156012#endorsement-status) Endorsement Policy (https://www.fitchratings.com/site/pr/10156012#endorsement-policy) ALL FITCH CREDIT RATINGS ARE SUBJECT TO CERTAIN LIMITATIONS AND DISCLAIMERS. PLEASE READ THESE LIMITATIONS AND DISCLAIMERS BY FOLLOWING THIS LINK: HTTPS://WWW.FITCHRATINGS.COM/UNDERSTANDINGCREDITRATINGS (HTTPS://WWW.FITCHRATINGS.COM/UNDERSTANDINGCREDITRATINGS). IN ADDITION, THE FOLLOWING HTTPS://WWW.FITCHRATINGS.COM/RATING-DEFINITIONS-DOCUMENT (https://www.fitchratings.com/rating-definitions-document) DETAILS FITCH'S RATING DEFINITIONS FOR EACH RATING SCALE AND RATING CATEGORIES, INCLUDING DEFINITIONS RELATING TO DEFAULT. PUBLISHED RATINGS, CRITERIA, AND METHODOLOGIES ARE AVAILABLE FROM THIS SITE AT ALL TIMES. FITCH'S CODE OF CONDUCT, CONFIDENTIALITY, CONFLICTS OF INTEREST, AFFILIATE FIREWALL, COMPLIANCE, AND OTHER RELEVANT POLICIES AND PROCEDURES ARE ALSO AVAILABLE FROM THE CODE OF CONDUCT SECTION OF THIS SITE. DIRECTORS AND SHAREHOLDERS RELEVANT INTERESTS ARE AVAILABLE AT HTTPS://WWW.FITCHRATINGS.COM/SITE/REGULATORY (https://www.fitchratings.com/site/regulatory). FITCH MAY HAVE PROVIDED ANOTHER PERMISSIBLE SERVICE TO THE RATED ENTITY OR ITS RELATED THIRD PARTIES. DETAILS OF THIS SERVICE FOR WHICH THE LEAD ANALYST IS BASED IN AN ESMA- OR FCA-REGISTERED FITCH RATINGS COMPANY (OR BRANCH OF SUCH A COMPANY) CAN BE FOUND ON THE ENTITY SUMMARY PAGE FOR THIS ISSUER ON THE FITCH RATINGS WEBSITE. Copyright © 2021 by Fitch Ratings, Inc., Fitch Ratings Ltd. and its subsidiaries. 33 Whitehall Street, NY, NY 10004. Telephone: 1-800-753-4824, (212) 908-0500. Fax: (212) 480-4435. Reproduction or retransmission in whole or in part is prohibited except by permission. All rights reserved. In issuing and maintaining its ratings and in making other reports (including forecast information), Fitch relies on factual information it receives from issuers and underwriters and from other sources Fitch believes to be credible. Fitch conducts a reasonable investigation of the factual information relied upon by it in accordance with its ratings methodology, and obtains reasonable verification of that information from independent sources, to the extent such sources are available for a given security or in a given jurisdiction. The manner of Fitch's factual investigation and the scope of the third-party verification it obtains will vary depending on the nature of the rated security and its issuer, the requirements and practices in the jurisdiction in which the rated security is offered and sold and/or the issuer is located, the availability and nature of relevant public information, access to the management of the issuer and its advisers, the availability of pre-existing third-party verifications such as audit reports, agreed-upon procedures letters, appraisals, actuarial reports, engineering reports, legal opinions and other reports provided by third parties, the availability of independent and competent third- party verification sources with respect to the particular security or in the particular jurisdiction of the issuer, and a variety of other factors. Users of Fitch's ratings and reports should understand that neither an enhanced factual investigation nor any third-party verification can ensure that all of the information Fitch relies on in connection with a rating or a report will be accurate and complete. Ultimately, the issuer and its advisers are responsible for the accuracy of the information they provide to Fitch and to the market in offering documents and other reports. In issuing its ratings and its reports, Fitch must rely on the work of experts, including independent auditors with respect to financial statements and attorneys with respect to legal and tax matters. Further, ratings and forecasts of financial and other information are inherently forward-looking and embody assumptions and predictions about future events that by their nature cannot be verified as facts. As a result, despite any verification of current facts, ratings and forecasts can be affected by future events or conditions that were not anticipated at the time a rating or forecast was issued or affirmed. The information in this report is provided "as is" without any representation or warranty of any kind, and Fitch does not represent or warrant that the report or any of its contents will meet any of the requirements of a recipient of the report. A Fitch rating is an opinion as to the creditworthiness of a security. This opinion and reports made by Fitch are based on established criteria and methodologies that Fitch is continuously evaluating and updating. Therefore, ratings and reports are the collective work product of Fitch and no individual, or group of individuals, is solely responsible for a rating or a report. The rating does not address the risk of loss due to risks other than credit risk, unless such risk is specifically mentioned. Fitch is not engaged in the offer or sale of any security. All Fitch reports have shared authorship. Individuals identified in a Fitch report were involved in, but are not solely responsible for, the opinions stated therein. The individuals are named for contact purposes only. A report providing a Fitch rating is neither a prospectus nor a substitute for the information assembled, verified and presented to investors by the issuer and its agents in connection with the sale of the securities. Ratings may be changed or withdrawn at any time for any reason in the sole discretion of Fitch. Fitch does not provide investment advice of any sort. Ratings are not a recommendation to buy, sell, or hold any security. Ratings do not comment on the adequacy of market price, the suitability of any security for a particular investor, or the tax-exempt nature or taxability of payments made in respect to any security. Fitch receives fees from issuers, insurers, guarantors, other obligors, and underwriters for rating securities. Such fees generally vary from US$1,000 to US$750,000 (or the applicable currency equivalent) per issue. In certain cases, Fitch will rate all or a number of issues issued by a particular issuer, or insured or guaranteed by a particular insurer or guarantor, for a single annual fee. Such fees are expected to vary from US$10,000 to US$1,500,000 (or the applicable currency equivalent). The assignment, publication, or dissemination of a rating by Fitch shall not constitute a consent by Fitch to use its name as an expert in connection with any registration statement filed under the United States securities laws, the Financial Services and Markets Act of 2000 of the United Kingdom, or the securities laws of any particular jurisdiction. Due to the relative efficiency of electronic publishing and distribution, Fitch research may be available to electronic subscribers up to three days earlier than to print subscribers. For Australia, New Zealand, Taiwan and South Korea only: Fitch Australia Pty Ltd holds an Australian financial services license (AFS license no. 337123) which authorizes it to provide credit ratings to wholesale clients only. Credit ratings information published by Fitch is not intended to be used by persons who are retail clients within the meaning of the Corporations Act 2001 Fitch Ratings, Inc. is registered with the U.S. Securities and Exchange Commission as a Nationally Recognized Statistical Rating Organization (the "NRSRO"). While certain of the NRSRO's credit rating subsidiaries are listed on Item 3 of Form NRSRO and as such are authorized to issue credit ratings on behalf of the NRSRO (see https://www.fitchratings.com/site/regulatory), other credit rating subsidiaries are not listed on Form NRSRO (the "non-NRSROs") and therefore credit ratings issued by those subsidiaries are not issued on behalf of the NRSRO. However, non-NRSRO personnel may participate in determining credit ratings issued by or on behalf of the NRSRO.
Comment Guidelines
We encourage you to use comments to engage with users, share your perspective and ask questions of authors and each other. However, in order to maintain the high level of discourse we've all come to value and expect, please keep the following criteria in mind:
Enrich

the conversation

Stay focused and on track.

Only post material that's relevant to the topic being discussed.

Be respectful.

Even negative opinions can be framed positively and diplomatically.

Use standard writing style.

Include punctuation and upper and lower cases.

NOTE

: Spam and/or promotional messages and links within a comment will be removed

Avoid profanity, slander or personal attacks

directed at an author or another user.
Don't Monopolize the Conversation. We appreciate passion and conviction, but we also believe strongly in giving everyone a chance to air their thoughts. Therefore, in addition to civil interaction, we expect commenters to offer their opinions succinctly and thoughtfully, but not so repeatedly that others are annoyed or offended. If we receive complaints about individuals who take over a thread or forum, we reserve the right to ban them from the site, without recourse.
Only English comments will be allowed.
Perpetrators of spam or abuse will be deleted from the site and prohibited from future registration at Investing.com's discretion.