Silver Prices Are Falling, BUT Surrounded By Catalysts
Silver Prices Preparing to Explode – Will You be Empty-Handed or Holding some Silver then?
Silver prices continue the attempts to settle below the support at $23.50 while the US dollar gains ground against a broad basket of currencies. Silver prices of course have a major negative correlation to the US dollar, so that is something worth paying attention to. A strong dollar is bearish for precious metals as it makes them more expensive for buyers who have other currencies.
The gold and silver bulls enjoyed a brief departure from the violent selling pressure they've experienced all year, but unfortunately, it's been short-lived. This is evidenced by silver plunging more than 5% thus far this week and gold sliding more than 3%. These unpleasant returns are despite negative real rates continuing to remain deeply in negative territory, which is typically a positive backdrop for gold and silver prices. While many investors are likely frustrated by the selling pressure, it's important to note that nothing goes up in a straight line, and these pullbacks are entirely normal, as long as key support levels are held.
I remain bullish on Silver & very soon the time will come when silver explodes, making its exponential, beyond-the-comprehension run, shocking even "the experts."
Someone Took Immediate Delivery of 741 Comex Silver Contracts in November (So Far)
With several days to go in the month, the number of silver contracts taken for immediate delivery at the Comex already stands at 741, more than double the total in November 2020. That raises two big questions: who is taking delivery of all this metal mid-month? And more importantly, what are they anticipating?
This analysis focuses on gold and silver physical delivery on the Comex. See the article What is the Comex for more detail.
Silver: Recent Delivery Month
Silver is wrapping up November delivery which is typically a much smaller month than even other minor months. As the chart below shows, delivery requests are below the last 5 minor months. That being said, notice the orange dot. It represents the percentage of contracts delivered relative to the max open interest for the month. It currently sits at 170%. This means that 70% more contracts have been delivered in November than were ever open at any point. Other months have shown similar moves, going above 100%, but not to the same magnitude.
Remember that "delivery" on the Comex does not necessarily mean the metal leaves the Comex vault. That data is tracked in a separate analysis, which has been showing a fairly large exodus of silver leaving Comex vaults in recent months.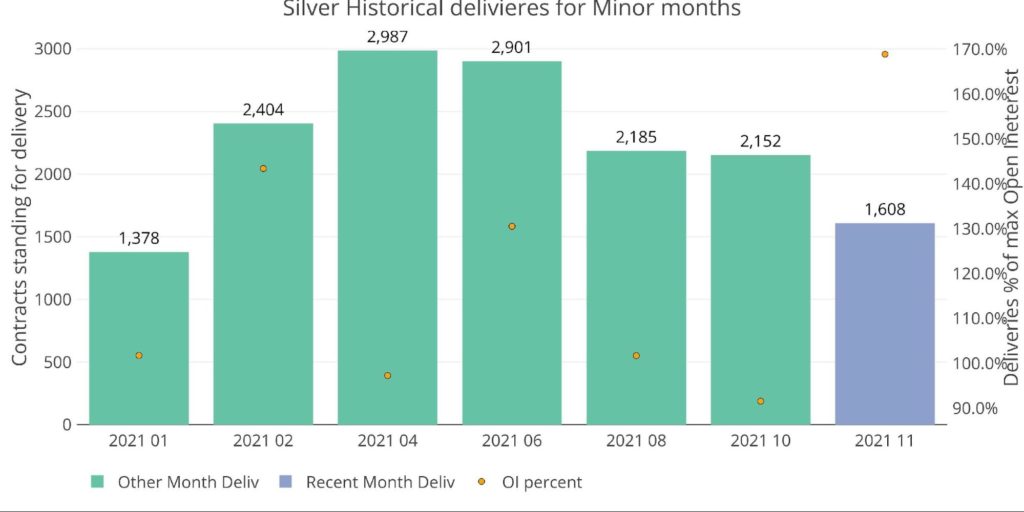 Figure: 1 Recent like-month delivery volume
The delivery volume does need perspective, which is shown in the chart below. The major months still greatly outstrip the minor months (orange bars). The strength discussed above is not a gross delivery volume, but more about what transpires during the month. These are contracts that are opened mid-month to stand for immediate delivery. This specific metric is shown by the red bars below. Figure 3 shows a more detailed look.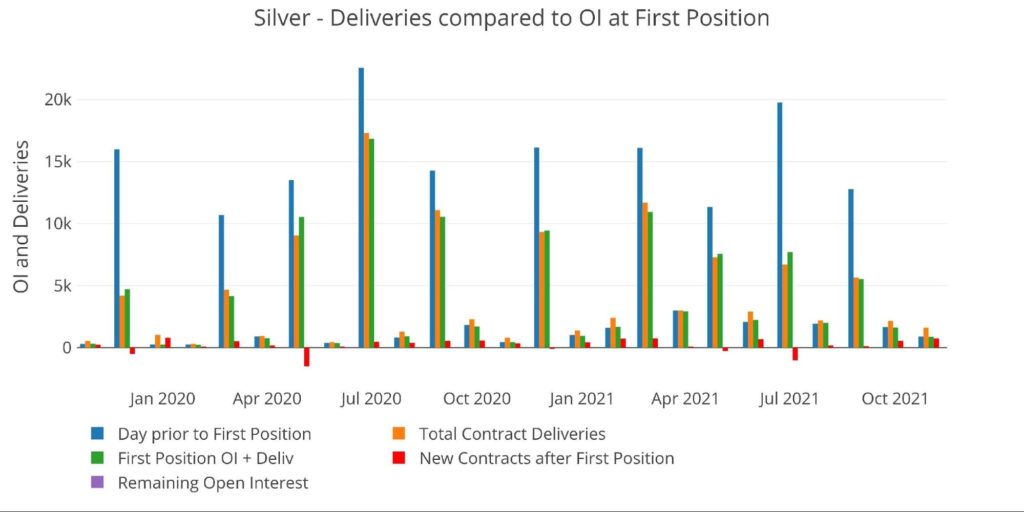 Figure: 2 24 month delivery and first notice
The chart below focuses on the red bars above. After seeing several months of low and even negative contracts, the mid-month activity has picked up during October and November. The month of November currently sits at 741 contracts. This is below the 743 seen in March and the 783 seen in Jan 2020, but remember that November is not over. It could still set a record. Furthermore, it is more than double the 346 contracts from November 2020.
Given the last two large months were right before Covid hit the US (Jan 2020) and during the attempted Reddit silver squeeze (Feb and March), who is taking delivery of all this metal mid-month? More importantly, what are they anticipating?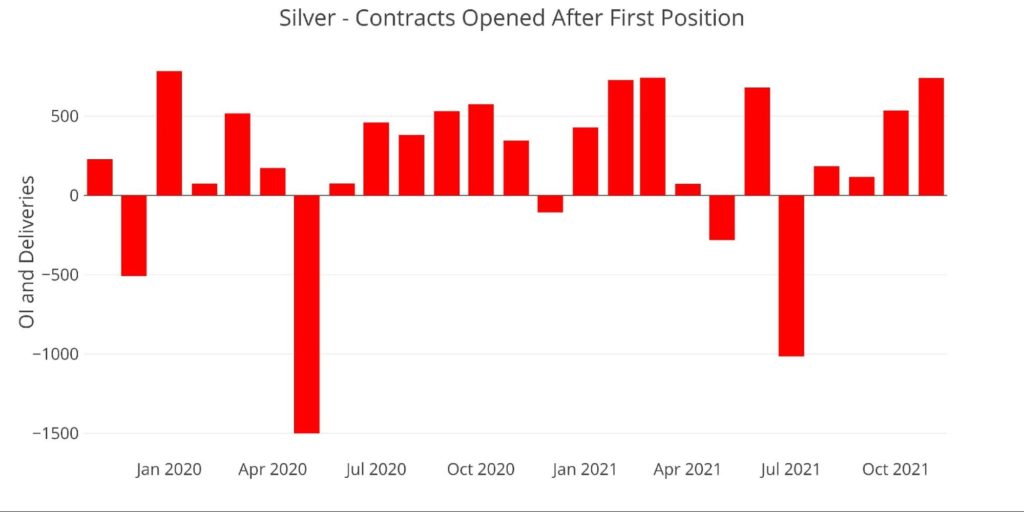 Figure: 3 24 month delivery and first notice
Another promising sign is the historical view. Looking at the month of November over 10 years shows that this month is the largest on record from a dollar (notional) perspective. November precedes the year-end December contract, which is a major month in both gold and silver. Historically very quiet, but this November diverged quite significantly compared to previous years.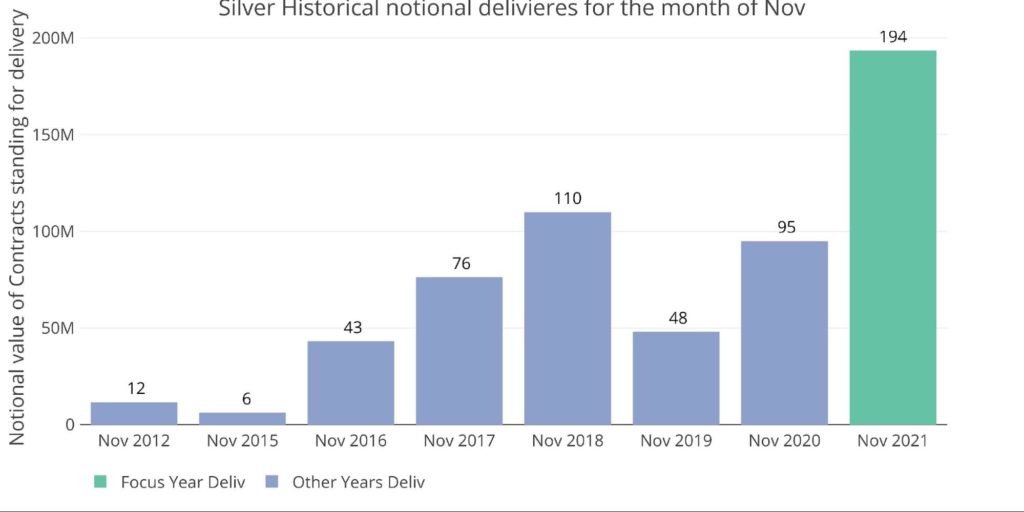 Figure: 4 Notional Deliveries
Who is scooping up all these contracts and will the momentum continue into December?
Silver: Next Delivery Month
The December contract is 3 trading days away from closing. There are 31k contracts open, but that is not atypical for this time of the roll period. The Thanksgiving holiday throws a wrinkle in things, but the current open interest is sitting below trend regardless.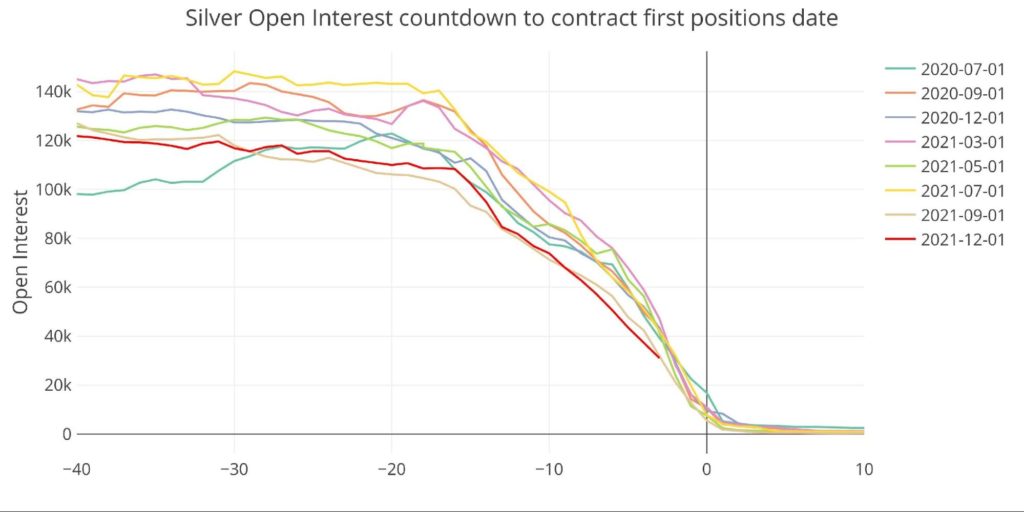 Figure: 5 Open Interest Countdown
The major month trend has definitely been down in Silver. Each month gets lower than the next. Will December find a way to buck the trend? Given the recent mid-month strength, it's possible. Stay tuned next week for the full analysis.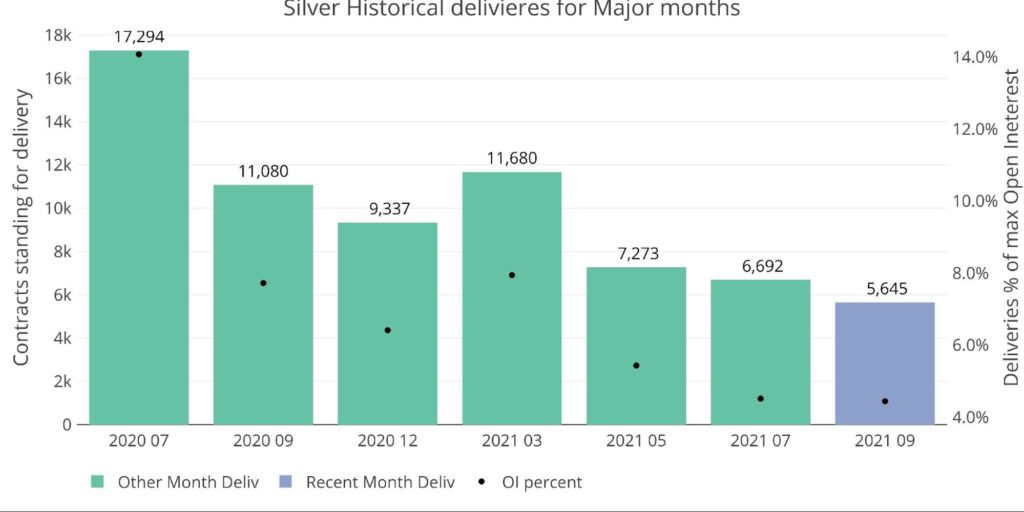 Figure: 6 Historical Deliveries
Cost to roll
One final consideration is the cost to roll contracts. This represents the spread between the current contract and the next major month contract. While it has drifted up in recent days, it still sits below the spread when delivery was occurring in much higher volumes during 2020.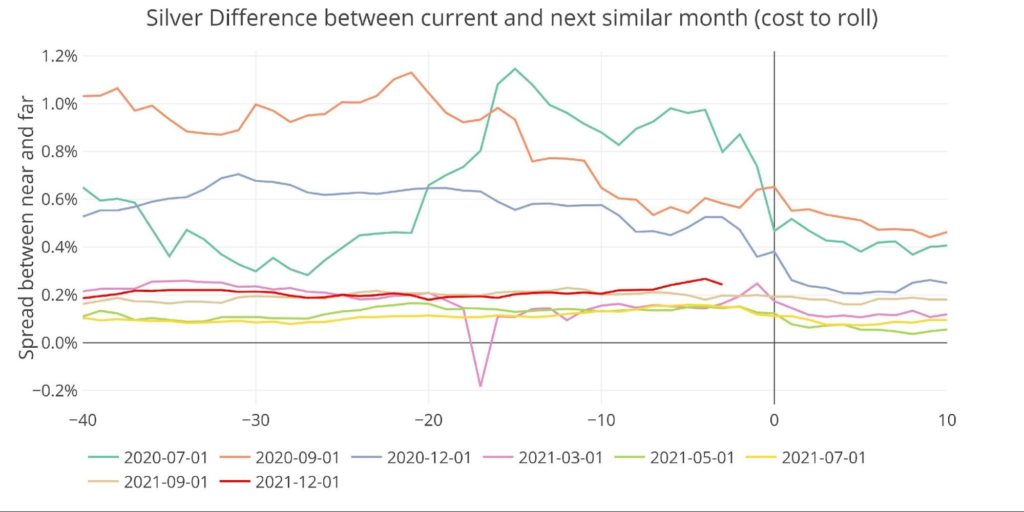 Figure: 7 Roll Cost
Gold: Recent Delivery Month
The charts below follow the same order as the silver charts above.
November gold is a minor month, similar to silver. The lone exception was last November. The results are neither impressive nor disappointing. Delivery volume exceeded 3 of the last 5 minor months. Furthermore, the percent of max open interest that saw delivery (orange dot) sits at 158%. Not bad, but not exceptional.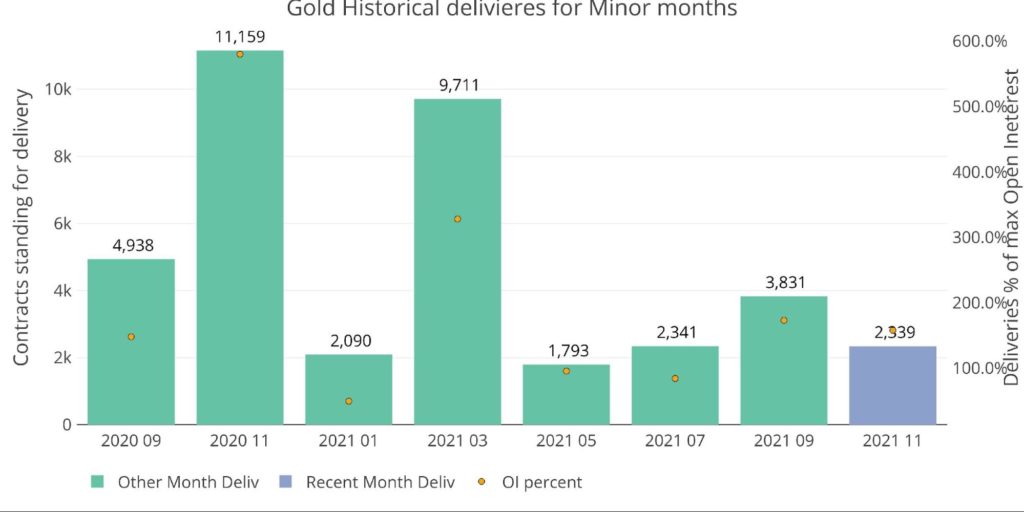 Figure: 8 Recent like-month delivery volume
The mid-month activity (red bars) has shown strength, but this has been the trend of late. This month has seen 1,912 contracts open for immediate delivery. This is below the last three months of: 7,166, 2,678, and 2,656. It does exceed the three prior months from May to July.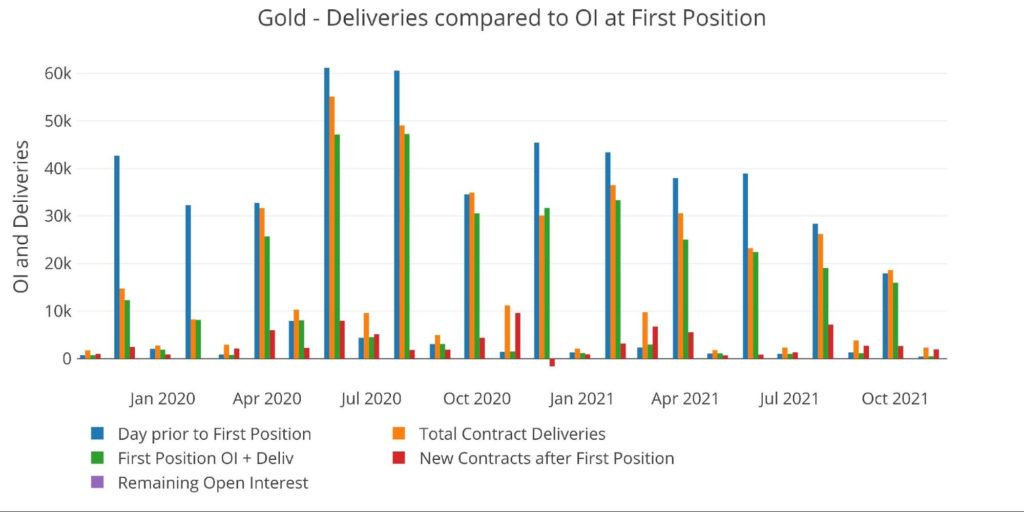 Figure: 9 24 month delivery and first notice
Putting November into historical perspective shows it slightly above average but also well below the massive delivery seen last November.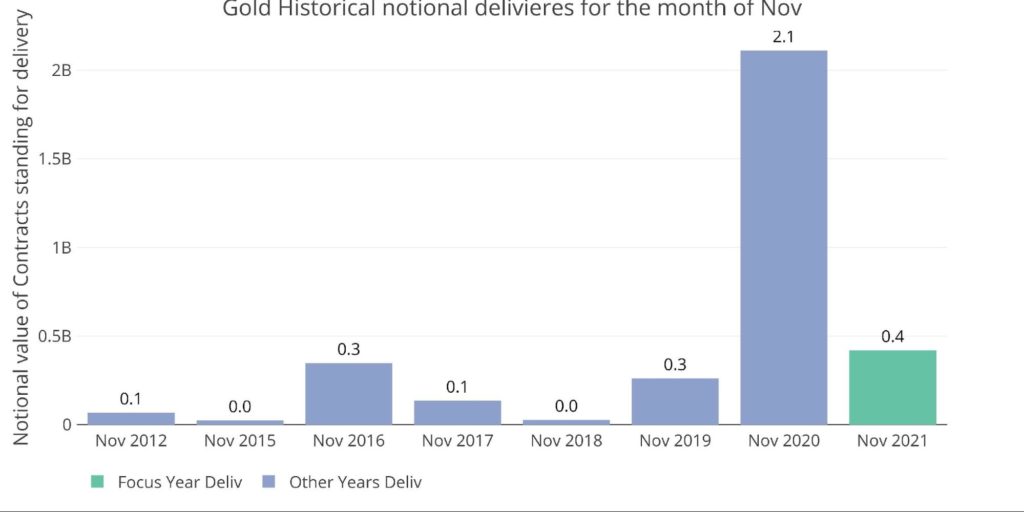 Figure: 10 Notional Deliveries
Gold: Next Delivery Month
December gold is a bit more exciting being a major month. Unfortunately, the possibility for a Brainard nomination at the Fed did not materialize. This caused a massive (and irrational) sell-off in gold. Because the futures/paper markets dictate short-term price movements, this price drop manifested in closing long contracts. This resulted in the large drop in Open Interest seen in the countdown below.
As shown this was a massive liquidation. Gold open interest was running well above trend before the Powell announcement and is now running well below trend. Still, it's too early to draw any solid conclusions. The last three days before roll are always interesting and a lot can happen.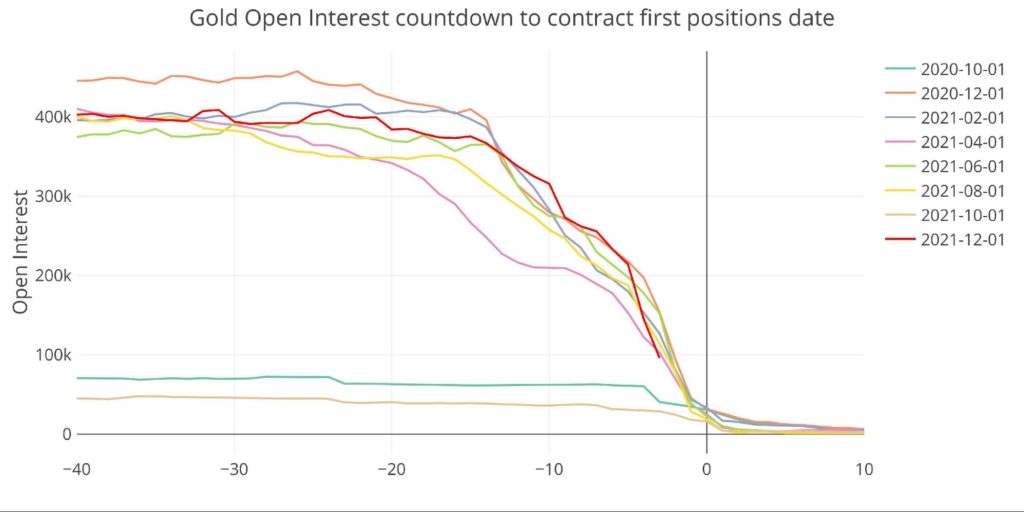 Figure: 11 Open Interest Countdown
Similar to silver, the chart below shows the trend has been down.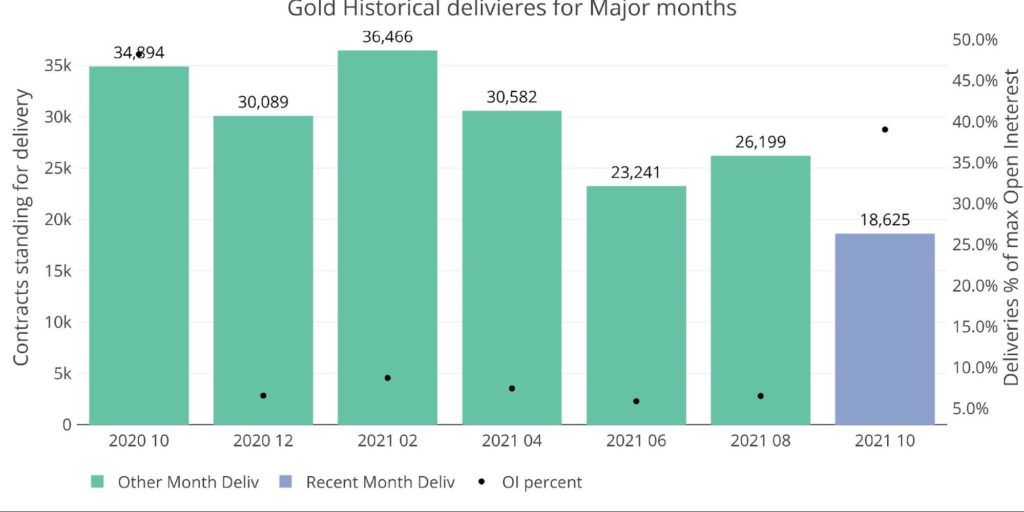 Figure: 12 Historical Deliveries
Cost to roll
With the cost to roll also elevated, it may result in slightly more deliveries than what had been occurring, but will it be enough to reverse the trend?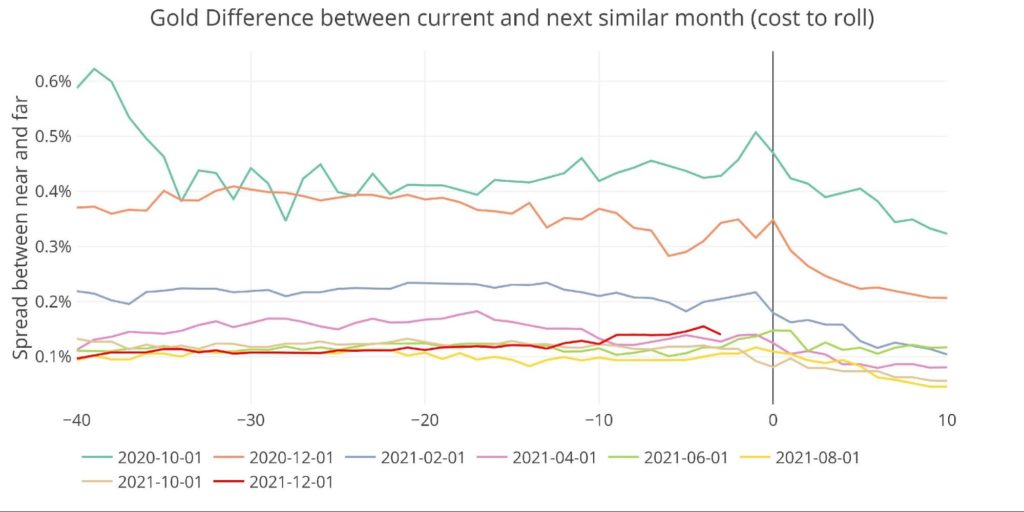 Figure: 13 Roll Cost
Wrapping up
December could prove to be a pivotal month. The physical demand for both metals has picked up since the lull over the summer. December could show whether the strong demand for physical is sustaining or waning.
The inflation in 2021 has been high but will likely get much higher in 2022. Major companies have been announcing price hikes for months. The CPI is now above 6%.
Physical demand in 2021 was high from a historical perspective but below the records seen in 2020. Even though price and physical demand lost momentum through Q3 2021, it's hard to believe the demand won't come back in a hurry if inflation doesn't cool and the Fed is slow to act.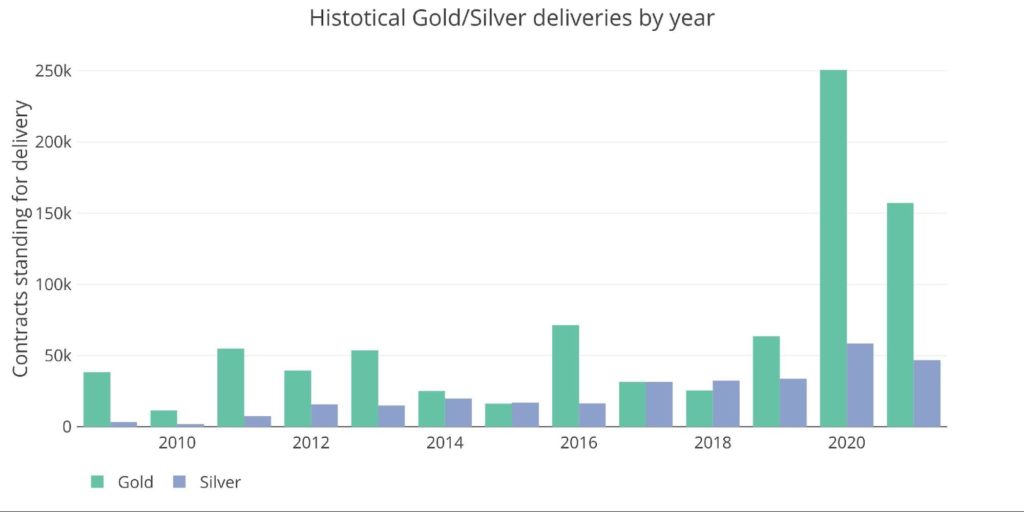 Figure: 14 Annual Deliveries
Data Source: https://www.cmegroup.com/
Data Updated: Nightly around 11 PM Eastern
Last Updated: Nov 23, 2021
Peter Schiff
Silver Demand Expected to Exceed 1 Billion Ounces in 2021
Every key area of silver demand is forecast to rise in 2021, according to the Silver Institute's Interim Silver Market Review.
The institute projects silver demand will come in at 1.029 billion ounces this year. That would mark the first year demand has exceeded 1 billion ounces since 2015.
Industrial demand for silver is expected to reach a record high of 524 million ounces. Demand in the solar sector will be a primary driver, with a 13% increase to over 110 million ounces. Meanwhile, brazing alloy and solder demand is set to improve by 10% in 2021, helped by a recovery in housing and construction.
Investment demand is also expected to chart a significant 32% increase, rising to a 6-year high of 263 million ounces. Investment demand in the US and India is leading the way.
Building on solid gains last year, US coin and bar demand is expected to surpass 100 million ounces for the first time since 2015. A burst in US investment demand started with the social media buying frenzy earlier this year and then spread to more traditional investors.
Indian demand reflects improved sentiment towards silver prices and a recovering economy. Overall, physical investment in India is forecast to surge almost three-fold this year, after collapsing in 2020.
ETF holdings are projected to rise by 150 million ounces in 2021. Over the last three years, silver ETF holdings have surged 564 million ounces. As of Nov. 10, ETFs held 1.15 billion ounces of silver, nearing the record of 1.21 billion ounces set earlier this year.
To date, the price of silver is up 28% year-on-year. Silver prices rose 27% in 2020.
The upside reflects healthy investor inflows into silver, on the back of supportive macroeconomic conditions, notably the persistence of exceptionally low interest rates, concerns about uncontrolled fiscal expansion and, most recently, growing concerns about rising inflationary pressures. The gold to silver ratio fell to 62 in early February, its lowest since July 2014. However, since then it has risen, to stand at around 74 in early November. Even so, this still compares favorably with last year when the ratio averaged 89. In terms of the full-year price average, Metals Focus expects silver to rise by 24% year-on-year to $25.40. This would achieve the highest annual average since 2012's $31.15."
Silver jewellery and silverware fabrication is expected to partially recover from 2020's depressed totals, rising by 18% and 25% respectively, to 173 million ounces and 40 million ounces.
On the supply side, mine output is projected to increase by about 6%. This is primarily a function of mines reopening after 2020 shutdowns due to COVID-19. Countries where output was most heavily impacted last year, including Peru, Mexico and Bolivia, have charted the largest production increases.
Even with mine output recovering, the silver market is expected to record a physical deficit of about 7 million ounces this year. This will mark the first deficit since 2015. – Peter Schiff
How Silver Prices Can Conquer $50+ in 2022
Two realistic price movement scenarios can see silver finally ascend through the magnetic $50 level in 2022. A case can be made that either – or perhaps both – have a strong likelihood of taking place. – David Smith
First Scenario:
In December, silver prices move up from a strong multiple-year base, with an impulse leg-driven First Quarter, punching through strong resistance and spiking into the low '$40's before retreating to its breakout just above $30.
It builds a broad $15 sideways HSR (horizontal support-resistance) price box between $43 and $28.
Volume strengthens on up days, and lessens on down days, creating a descending technical triangle.
In April, silver prices break out of its four-month coil and drive into new multiple-year highs between $44 and $55 per ounce, creating spikes above $50, but without managing three closes (above a given price, in this case, the historic $50) David Morgan looks for to validate a bullish (or bearish) impulse leg breakout.
In mid-June, physical silver gives up the ghost and retreats into a seasonal July-August double bottom.
Many long-term silver bulls lose hope as the "triple top" (1980, 2011, and 2022) they see causes them to conclude that silver prices will "never" rise and stay above $50 during their lifetimes.
Metals and miners wash out into the fall of 2022, as the last weak hands are "worn out or scared out," even as silver consolidates for a fourth – and this time successful assault on $50.
Second Scenario:
In the second scenario, silver prices, having retreated toward their $30 breakout early in the year, yet unable to leave $50 behind, churns in a frustrating triangular fashion.
Meanwhile, new, subtle, but sustained physical buying comes in late in a session on any breakdown in silver prices.
Large money siphons off increasingly scarce physical inventory like what happened in late October 2021, when a metals' dealer colleague shared with me that he had just taken "a test order" from a new customer… for five million dollars!
The silver price is coiling; the spring is tightening… Those who read this column have heard the litany of supportive factors, but there are two more that may slip beneath people's radar.
A Technical Indicator:
In several decades of following "the restless metal", one powerful "technical tell" – what I call "the fourth time indicator" – stands out. It's when a price challenges either upside resistance or downside support for the fourth time.
A classic example of this took place as what would become a 5-year cyclical bear market built out from the 2011 upside failure and touched $26 silver for the fourth time.
I remember getting a pit in my stomach, thinking, "It's probably gonna go through… and keep dropping!" Which is exactly what it did.
A Physical Indicator:
The metals' dealers I speak with tell me that virtually no significant quantities of gold and silver are coming back into the market.
Additionally, a tale I watch for is the availability – or lack thereof – of fractional ounces gold coins like the Canadian gold Maple (leaf) or the Australian gold Lunar.
Upon inquiring recently about 1/10th oz Canadian Maples, I was told, "Do not expect anything before late January 2022 at the earliest." (Some American fractionals are available, but internationally less desired by dealers than their more easily resold cousins.
Silver has acted like this before. Jeff Clark's talk at last fall's Silver Symposium envisioning how the next silver bull run might unfold was titled "From Boring to BOOM."
Clark noted how silver prices actually declined for two years into 1976, during a time – as now – when inflation and unemployment were high, and there was an ongoing energy crisis. He had a dozen quotes "from the experts" read aloud, several from the venerable New York Times
Said one in the event by a less-than-a prescient observer: "Gold is headed below $100. Who wants to put money in gold and silver now?" Another: "Any argument against putting money into gold goes double for silver. Silver is fools' gold!"
Clark described the current environment succinctly and eloquently. "We have a falling silver price, surrounded by catalysts."
You may be a long-suffering holder whose dreams of a metal moon shot have been dashed too many times to count. (And yet silver in 2000 traded for less than $4.00 the ounce; rocketed to near $50 in 2011; and even today with a $3-$5/ounce bullion premium and $9-$12 for the American Silver Eagle versus the traditional $3, you're still looking at a "30 handle.")
What do you think will happen when one of those "catalysts" or some other unexpected factor collides with a jaded "nothing's gonna' change'" investment cohort, an unsuspecting public, and an asleep at the wheel manufacturing sector?
I've said it before: Everyone knows the price of silver – look it up on an exchange or call your dealer. But No one on the face of the earth has even a rough idea of the value of silver.
My bet says that as we track the metal's path to $50 in 2022, followed by an epic three-digit stellar shot in 2023-4, we're all going to find out! If such is the case, which side of this bet will you be on?
The Mt. St. Helens Side-Eruption.
When Silver makes its move, "the side of the mountain is going to blow out." In March 1980, Mt. St. Helens in WA State blew its…side. Everyone including the geologist monitoring its activity – and who himself died during the explosion – expected that when and if it did activate, it would follow the classic vertical eruptive form. But no.
The NE side of the volcanic cone disintegrated as a 300-mph hell-fire storm of ash, rock, plant matter (and a bird's beak I found in a relative's back yard in Moses Lake 200 miles from the site!) spread out across several states.
This may serve as a fitting analogy for what's to come when silver explodes, making its exponential, beyond-the-comprehension run, shocking even "the experts." Should this take place, will you be standing there empty-handed as a spectator, watching? Or holding physical silver, some gold, and perhaps platinum in hand to ensure your other assets?
Comment Guidelines
We encourage you to use comments to engage with users, share your perspective and ask questions of authors and each other. However, in order to maintain the high level of discourse we've all come to value and expect, please keep the following criteria in mind:
Enrich

the conversation

Stay focused and on track.

Only post material that's relevant to the topic being discussed.

Be respectful.

Even negative opinions can be framed positively and diplomatically.

Use standard writing style.

Include punctuation and upper and lower cases.

NOTE

: Spam and/or promotional messages and links within a comment will be removed

Avoid profanity, slander or personal attacks

directed at an author or another user.
Don't Monopolize the Conversation. We appreciate passion and conviction, but we also believe strongly in giving everyone a chance to air their thoughts. Therefore, in addition to civil interaction, we expect commenters to offer their opinions succinctly and thoughtfully, but not so repeatedly that others are annoyed or offended. If we receive complaints about individuals who take over a thread or forum, we reserve the right to ban them from the site, without recourse.
Only English comments will be allowed.
Perpetrators of spam or abuse will be deleted from the site and prohibited from future registration at Investing.com's discretion.