GSK: Value Investment Amid Focus on Innovative Specialty Pharma and Vaccines
GlaxoSmithKline Pharmaceuticals (NS: GLAX ) Ltd (GLAXO) is an Indian subsidiary of MNC GlaxoSmithKline Plc (U.K.), one of the world's leading research-based pharmaceutical/healthcare companies and the world's largest vaccine manufacturers (in terms of sales). GSK is one of the oldest pharmaceutical companies in India (since 1924). Its product portfolio includes prescription medicines, vaccines, and OTC products, having an impeccable brand, trust, and the image of quality assurance at affordable prices in India. In brief, Glaxo is a household name in India, where it started its journey in 1924 as a distributor of baby food.
GSK has prescription drugs ranges across various therapeutics such as antibiotics (from 1st to 3rd or higher generations), dermatology, gynecology, diabetes, oncology, cardiovascular and respiratory illness. Glaxo also offers a range of vaccines, for the prevention of Hepatitis-A/B, invasive diseases caused by influenza, chickenpox, diphtheria, pertussis, tetanus, rotavirus, cervical cancer, and many others which are included in the Indian universal vaccination program. In short, Glaxo has many well-known pharma products in India (both prescription and OTC) like Augmentin 625 DUO, and Calpol tabs- trusted by both doctors and patients.
GSK India is undergoing a restructuring, spinning off the consumer-health division, and has also started a two-year program to get it ready to set up two new leading companies in biopharma and consumer health care. In India, GSK has separately listed companies for its pharmaceutical (NSE: GLAXO) and consumer businesses (NSE:GSKCONS). Under consumer business, in April'20, GSK divested certain OTC healthcare products to HUL in India and also holds a minority stake of 5.7% in HUL.
Now HUL is distributing GSK consumer household OTC healthcare brands like Horlicks, Cronin, Eno, Iodex, Otrivin, and Sensodyne in India, while GSK consumers will continue to be responsible for demand generation, portfolio strategy, R&D/product quality, and marketing for these brands. As a reminder, HUL has an extensive FMCG distribution network all over India, including remote areas/villages.
Glaxo India is engaged in R&D, manufacturing, distributing, and trading pharmaceuticals. It manufactures medicinal substances (API) used in the manufacture of pharmaceuticals, such as antibiotics, endocrine products, basic vitamins; opium derivatives; sulpha drugs; serums and plasmas; salicylic acid, its salts, and esters; glycosides and vegetable alkaloids, and chemically pure sugar.
GSK India offers a range of prescription medicines, vaccines, and consumer healthcare products. Its medicine portfolio includes Adartrel, Bactroban, Combodart, and Duodart. Its vaccine portfolio includes Fluarix Tetra, Nucala, Menveo Ambirix, Cervarix, Fendrix, and Havrix. The Company's products include Betamethasone, Potassium Clavulanate with Amoxicillin (Augmentin 625 DUO), and Pneumococcal Polysaccharide and Conjugate Vaccine. Glaxo's global R&D centers are also based in India along with manufacturing units.
India remains an important growth market for Glaxo and the company is committed to investing in both its listed Pharmaceuticals business along with OTC and Oral Health brands in this country. As part of the transaction, HUL will distribute these Consumer Healthcare brands, which include market-leading Sensodyne, Crocin, Otrivin, and Eno, for GSK in India. GSK will continue to be responsible for demand generation, portfolio strategy, R&D, and marketing for these brands. Glaxo India contributes almost 13% to its overall EM sales and is the 2nd highest contributor. In India, it's maintaining its market share for key brands (generics) consistently by over 30% despite fierce competition as doctors/patients trust the 'Glaxo' brand for quality and result in healthcare issues without any compromises.
Summary of latest report card: Q2FY23 (Consolidated: INR 100 Cr. =1B)



·         Operating revenue Rs.9.17B vs 7.45B sequentially (+23.05%) and 101.00B yearly (-9.21%)
·         Revenue declined yearly primarily due to divested brands, but recovered sequentially after declining sequentially in the last three quarters by -7.97%, -0.77%, and -19.21% amid COVID and brand discontinuation
·         Operating expenses Rs.6.60B vs 5.96B sequentially (+10.69%) and 7.33B yearly (-10.01%)
·         EBITDA Rs.2.57B vs 1.49B sequentially (+72.53%) and 2.77B yearly (-7.08%)
·         Interest payment Rs.0.39B vs 0.68B sequentially (-42.65%) and 0.35B yearly (+11.43%)
·         EBTDA (EBITDA-INT); i.e. core operating profit Rs.2.57B vs Rs.1.48B sequentially (+73.06%) and 2.76B yearly (-7.11%)
·         EBTDA/share (core operating EPS) Rs.15.14 vs 8.75 sequentially (+73.06%) and 16.30 yearly (-7.11%)
·         EBTDA margin 27.98% vs 19.90% sequentially (+8.08%) and 27.35% yearly (+0.63%)
·         Sharp expansion of EBITDA margin was mainly due to lower employee costs and a better product mix
Highlights of last available analyst concall: Aug'22
·         India remains an important market; it aims to serve 2.5B people in the next 10 years globally
·         Stress on innovation (R&D) and new product launches, especially in Child and various new adult vaccines (after COVID)
·         In FY22-21, COVID helped immensely in sales of Calpol (anti-pyretic), Augmentin Duo (broad-spectrum antibiotics, very useful in RTI), and Space (antibiotics-Cefuroxime); these medicines are also immensely relevant after COVID
·         Continue to maintain the number one position in the Indian prescription market
·         Robust revenue, EBITDA, and margin despite some COVID-related distortions
·         During COVID, the vaccines portfolio was affected due to a lower birth rate; now expected to be in trend
·         Pharma is a seasonal business in India/South East Asia, but a diversified portfolio also helps in all seasons
·         Working continuously on cost efficiencies to improve EBITDA margin
·         Strong/sustainable CAGR of double-digit despite portfolio divestments and COVID headwinds/disruptions
·         Robust improvement in EBITDA margin over the last few years amid balanced brand promotions
·         Adequate pricing power amid WPI price increase despite NLEM price cuts
·         Focusing on brands that have better margins, WPI price increase
·         Indicative business growth around 19% run rate in line with previous 5/10 years; vaccinations portfolio may also help immensely due to growing affordability, the standard of living, and health consciousness after the pandemic
·         May bring all the appropriate GSK global innovative portfolio to India in the field of oncology, dermatology, vaccines (child & adult), and anti-infective (antibiotics)
·         Global and local innovation stress is the competitive advantage of Glaxo India
·         Stress on Fluarix (anti-Flu) and Shingrix (anti-shingles/herpes zoster) vaccines in India, especially for 50+ ages; working on public awareness
·         Expecting normal demand returning after two years of COVID disruption including childbirth rate/vaccinations
·         Emphasizing innovative/exclusive products, which will support the ultimate bottom line
·         Working on regaining lost market leadership for Augmentin, Calpol, Eltroxin, and various derma products
·         An increasing portfolio of free government child vaccines under NIP is a challenge for private vaccine makers like GSK, but the company is being able to defend its market share
·         MR marketing emphasizes now on new launches (innovative products), which is helping in lower operating/employment cost
·         Expecting 8-10% WPI/product price increase annually against RM cost 2-3%
·         Maintaining around 80% pharma products and 20% vaccines for the overall portfolio, helping the margin
·         Not compromising pricing for vaccines that are being included in government-run free NIP programs such as recent anti-pneumonia space
·         Government price control mechanism is certainly a risk for all pharma companies in India including Glaxo
·         Long-term contracts with API vendors helping in absorbing RM/API cost inflation coupled with adequate pricing power
·         Ukraine-Russia geopolitical tensions and Chinese supply chain disruptions also add RM cost pressure
·         Will introduce new innovative multi-billion global products like Shingrix at an appropriate time
·         EBITDA margin of high around 30-32% 10-15 years back was affected due to waves of NLEM (government price control), but the company is continuously taking various steps to protect its present margin of 20-25% (hit a low around 15-16% some years back)
·         The focus is to continue to grow revenue at least in double digits
·         Focusing on bringing in innovative/exclusive products rather than common mass-market ones (like in diabetes, and cardiovascular segments)
·         GSK may not return as the number one pharma company in India (as was 10-15 years ago) due to product limitations but may continue to report double-digit growth along with margin
·         Focusing on enhancing the productivity of the marketing team (MR) with existing customers/prescribing doctors and employing digital techs
·         The antibiotics market growing by around 8-10% annually
·          Higher USDINR is impacting around 0.5% EBITDA for imported API/RM
·         There may more competition in the private vaccines market post-COVID, but GSK believes it will eventually help to grow public/doctor awareness and the overall market
·         GSK will bring in more innovative vaccines in the coming days
·         The focus will be on the limited expansion of product portfolios with better productivity (margin)
·         GSK will not launch mass products (diabetes, cardiovascular segment) unless it's a completely new molecule as a result of innovation (R&D) by the company
Conclusions:
Glaxo India's revenue was affected significantly in the last few years due to COVID disruptions and the tepid performance of the vaccine portfolio. Among general medicines, the performance of Calpol, Augmentin Duo, Centum, and Becadexamin jumped during COVID. Now after COVID, although sales of these medicines moderated to some extent, still these are brand leaders (household names) along with Phexin, Betnovate-C, Eltroxin, Betnesol, T-Bact ointment, Cobadex, Cetzine, and Neosporin. In the vaccine portfolio, Synflorix and Infanrix Hexa were key products.
In Q2FY23, Glaxo's revenue (y/y) was helped by Augmentin, T-Bact, Eltroxin, Betnovate-C, and Ceftum, while dragged by Synflorix vaccines, Betnesol and Betnovate-N; overall growth was led by general /specialty medicines, while dragged by vaccines. In H1FY23, Glaxo launched its parent's innovative product – Trelegy Ellipta – the 1st single-inhaler triple therapy (SITT), in India for COPD (Chronic Obstructive Pulmonary Disease) patients in a once-daily regime for patients aged 18 years and above.
Looking ahead Glaxo India will aim for at least a +10% CAGR in revenue growth with an EBITDA margin of around 25-30%.  Glaxo India will strategically focus to prevent and treat disease, with R&D leveraging the science of the immune system, human genetics, and advanced technologies (in line with parent GSK). Glaxo will focus on specialty medicines and vaccines across four core therapeutic areas (TAs): Infectious Diseases, HIV, Oncology, and Immunology/Respiratory. In addition, New GSK will remain open to opportunities outside these core TAs where there are scale opportunities rooted in immune science and genetic validation.
At the heart of this are the GSK parent company's R&D focus on the science of the immune system, human genetics, and advanced technologies; and its world-leading capabilities in vaccine and pharmaceutical development. The company (GSK) currently has a pipeline of 20 vaccines and 42 medicines – many of which are potential best or first-in-class opportunities.
For big EM, like India, a newly defined General Medicines product group will contain all of New GSK's primary care brands, including older established products as well as the inhaled respiratory portfolio. General Medicines will have differing performance profiles by region and brand, with growth expected most in emerging markets. Overall General Medicines is expected to show broadly stable sales over the period 2021-26. General Medicines will be optimized for profitability and cash generation to support investment in Vaccines and Specialty Medicines. As part of this approach, further streamlining of the portfolio is expected through divestment or partnering of non-priority brands. GSK will continue to strengthen the balance sheet and cash flow to support the R&D of new products and also a higher dividend (shareholder return) policy.
Overall, Glaxo India has only around 3% of the market share and is 17th in terms of overall sales revenue. GSK will not launch lifelong mass products (diabetes, cardiovascular segment) unless it's a completely new molecule as a result of innovation (R&D) by the company; i.e. it will employ only an organic expansion strategy. GSK Pharma (India) is the market leader in most of the therapeutic categories in which it operates, its leading brands include Augmentin, Calpol, Betnovate, T-Bact, Betnesol, Ceftum, Cobadex CZS, Seretide, Phexin, Eltroxin, Zinetac and Neosporin.
In the Indian private channel vaccine market the company holds a dominant position with Synflorix being the 2nd largest vaccine brand. The vaccine segment has been the key growth driver for the company registering a growth of CAGR 10% over FY17-21. Vaccines' contribution to overall revenues increased from 17% in FY20 to 24% in FY21. GSK is witnessing recovery in its key brands as the pandemic is now almost over for India with healthy growth in newly launched products (Fluarix Tetra, Menveo, and Nucala) which augurs well for future growth. In July 2021 Glaxo India transferred its rights on two major OTC brands Iodex and Ostocalcium to GlaxoSmithKline Asia (Consumer) in line with the decision taken as part of a global restructuring.
Glaxo Pharma India has a presence across mainly three segments i.e. Specialty, General medicine, and Vaccines. GSK has restructured its product portfolio as it now focuses on marketing its top 20 brands having high double-digit margins (like Augmentin, Calpol, Betnovate, Synflorix, Ceftum, Eltroxin, Phexin, and Neosporin) spread across five major therapeutic areas of Anti-infective, Dermatology, Respiratory, Gastro-intestinal and Pain. Key brands like Augmentin, Ceftum, Eltroxin and CCM are growing faster than the market rate and hence gaining market share. It discontinued 10 brands in FY19 (Celin, Septran, Raipur) and may further look to divest a few more. Focus on key brands has helped the company to start reporting margins over 20% which is likely to expand further from current levels.
Looking ahead, GSK revenue growth would be also driven by new launches, such as Shingrix, Nucala, and Benlysta. GSK will target new launches over the next 3-4 years, such as Zejula (Oncology) from the parent portfolio. Adult vaccinations are another interesting large opportunity for the GSK. Globally, the GSK group is working with Sanofi (EPA: SASY ) and Medicago to harness the adjuvant technology in developing COVID vaccines while also collaborating with CureVac to develop mRNA vaccines that have the potential to address multiple COVID variants that are emerging across the world. These are currently undergoing global trials (Sanofi conducting a phase 3 trial in India) and would be considered for India when appropriate, depending on the trial outcome. If GSK is successful in adjuvant m-RNA technology, it may also help it to develop an appropriate vaccine to combat any future pandemic quickly.
In Sep-2020, the company launched Fluarix Tetra to combat influenza and continued to build on the momentum of the recently launched brand Menveo which had demonstrated strong growth. The company said that it is positioning itself to focus on the innovation pipeline and the prospect of introducing new launches in the coming years. Five of the GSK's vaccines feature among the top 20 vaccines in the self-pay market, in which it remains number one. GSK currently markets 10 vaccines across age groups - infants, adolescents, and adults. They are Synflorix, Infanrix, Havrix, Boostrix, Menveo, Fluarix Tetra, Rotarix, Cervarix, Priorix, and Varilrix. In September 2020, it launched the tetravalent influenza Northern Hemisphere vaccine (Fluarix Tetra NH) to help combat influenza. Within three months of the launch, the vaccine had garnered a 30% volume share in the market.
GSK India expects key promoted brands to grow around 15% annually over the medium term. Currently, 10 key brands account for 70% of the general medicine segment. It expects the remaining brand sales to remain largely flat going forward. In FY22, the margin took a hit due to price increases in Paracetamol and other APIs. Looking ahead, GSK India expects a robust margin and market share of its top general products amid the recent price rise and stability in RM/API prices.
India is around $20B in pharma market size, among the top 15 global markets, but significantly below U.S.'s $350B and China's $ 120 B. Although India is the lowest in terms of GDP/Capita and lower in terms of pharma consumption/per capita in G20 economies, India's drug prices are also on the lower side. Looking ahead, increasing awareness about health care, especially after COVID, rising middle class, and better online/offline distribution across the country, India's pharma market should grow around +15% annually (CAGR) against the average expected real GDP growth of around +7%. But hurdles will be also NLEM disruption (price control-NLEM revisions, addition of new drugs to NLEM) and lack of new launches in India for various reasons including lower price and patent issues.
But MNC pharma like GSK India has an advantage of parent R&D (new products/molecules) when such new launches from domestic MNCs are almost scary. Over the last decade, MNC pharma has increased its IPM/domestic market share from 10 to 20%, mainly based on organic expansion (new patented product launches from the parent R&D portfolio). Thus, in India, among the top 20 selling pharma brands, 12 belong to MNCs as they enjoy strong brand appeal (trust) among doctors and patients. One can experiment/try with cheaper FMCG/food products/dress materials/consumer electronic goods, but not with medicines as it involves precious lives.
Most of the global pharma MNCs are almost 100% domestic-oriented (local market) players except Sanofi India (NS: SANO ), which exports around 10-15% of its revenue. On the other side, most of the big Indian MNC Pharma (like Sun, Cipla (NS: CIPL ), and Lupin (NS: LUPN ), etc) are export savvy as almost 60% of their revenue comes from outside India, while 40% is from the local market. Thus higher USDINR is positive for Indian pharma MNCs, while negative for Foreign MNCs including Glaxo India to some extent.
But Foreign MNCs are also able to increase their Indian market share and earnings due to the introduction of innovative products (research molecules) and more local focus despite NLEM policy disruption, resulting in almost 30% negative price revision in key brands/products over the last few years. Foreign MNCs usually launch new products/molecules in the Indian market within 1-2 years of their global launch by the parent. But domestic MNCs/ local pharma players do not have such leverage and gone are the days they used to launch 5-10 new molecules annually besides several line extensions/ combinations in the Indian market which used to drive high growth. Domestic players now have to license such innovative products from foreign MNCs, which do not have any local subsidiaries.
As Foreign MNCs typically want to own the segment/therapy they are present in, they tend to dominate their respective therapy and are ranked as the largest player with a large gap between their brand and number two competitor. As stakes are huge in a growth market like India where there are more than 20 foreign MNC firms besides several Indian companies, brand loyalty with Doctors remains a key driving factor resulting in strong prescription growth. Key examples of blockbuster foreign brands are Augmentin and Vaccines range for GSK Pharma, Lantus, and Cardace for Sanofi, Prevenar and Becosules for Pfizer (NYSE: PFE ), Duphaston and Thyronorm for Abbott, etc. For most of the MNCs, we find that their top 10-15 brands usually account for 65-80% of their domestic sales driving growth and margins.
GSK India scrip lost almost -32.5% from its lifetime high around 1918 scaled in Nov'21 to 1294 mid-Jan '23 due to lower revenue and core operating profit amid COVID disruptions and discontinuation/divestment of various brands. The scrip also stumbled almost -10% since Sep'22 amid subdued report card and guidance. India's DPCO/NLEM by NPPI is a big stumble for all MNC/domestic pharma companies including Glaxo. The NPPA has revised MRP of 128 formulations including some anti-diabetic, antibiotics, antivirals, antibiotics, NSAIDs (Ibuprofen & paracetamol-painkiller/antipyretic), anticancer, antihypertensive and ant-asthma drugs/injections. Glaxo's Augmentin (Amoxicillin + Clavulanic Acid) and Calpol may be also affected to some extent.
Fair Valuations: Glaxo India Pharma: Rs.1547-1780-2046-2353 for FY: 23-26



GSK India reported a core operating EPS of around Rs.44.85 in FY22 against 40.84 in FY21, 38.42 in FY20, 35.43 in FY19, and 59.70 in FY18. The lower core operating EPS from FY19 is a result of divestments/discontinuations of various leading brands and COVID disruption. Now after restricting, the present post-COVID trend/run rate, various pros & cons, and management comments/guidance as discussed above, GSP Pharma may report at least a 10% CAGR in revenue for the next few years with an EBITDA range of 25-30%. Considering all these, GSK Pharma may report around 15% CAGR in core operating EPS in FY: 23-26. Thus the FY: 23-26 core operating EPS should come around 51.58-59.32-68.22 and 78.45. Relatively high average PE may be attributable to GSK's MNC appeal-strong/debt-free balance sheet, adequate FCF, strong brand equity, and robust R&D pipeline.
And assuming a median average PE of 30, the fair value for GSK India may be around Rs.1547-1780-2046-2353 for FY: 23-26. As the financial market tends to discount at least 1Y forward/projected EPS in advance; GSK Pharma may scale 1345 by Mar'23, 1547 by Dec'23, 1780 by Dec'24, and 2050-2353 by Mar-Dec'25.
Technical view: GSK India (LTP: 1305 as of 18/01/2023-EOD)


Looking ahead, whatever may be the narrative, technically Glaxo India (GSK Pharma) has to sustain over 1300 for 1335/1365-1575/1925; otherwise sustaining below 1285, GSK India may further fall to 1200/1125-955/905 in the coming days (in line with above TA levels/table).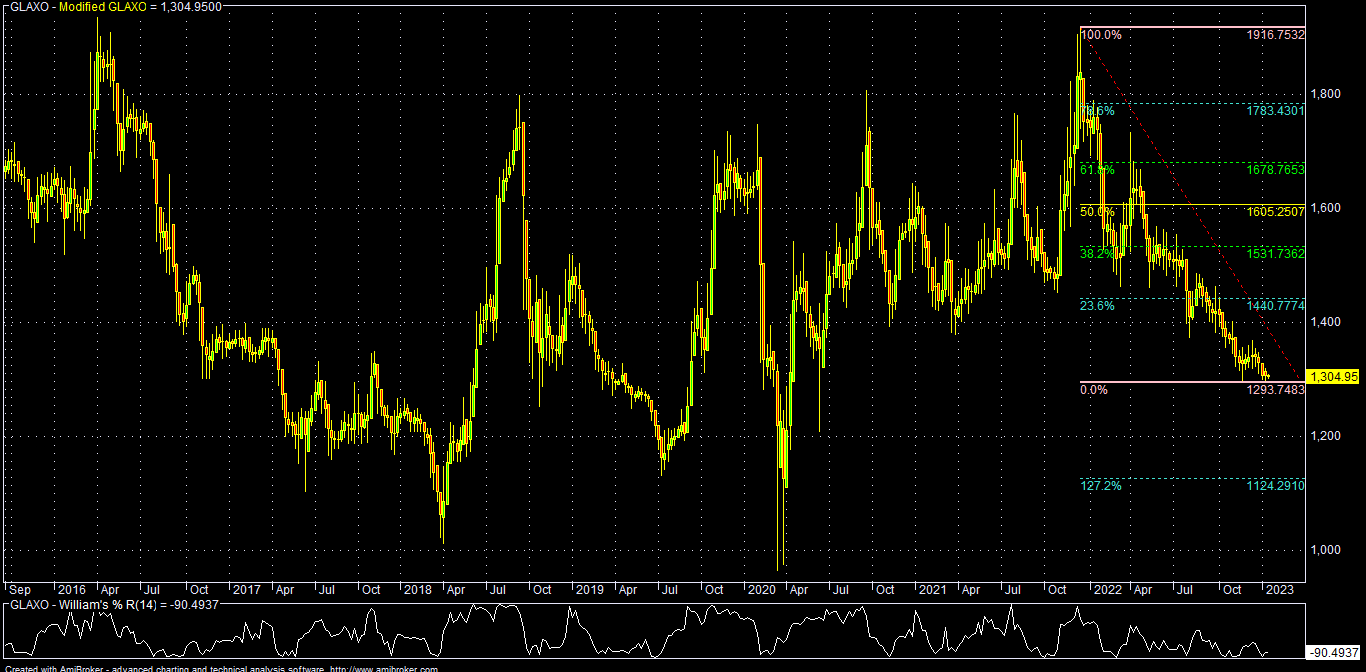 Investors may enter around 1300-1200-1125-955/905 levels.
GSK India: Consolidated P/L Account: QLY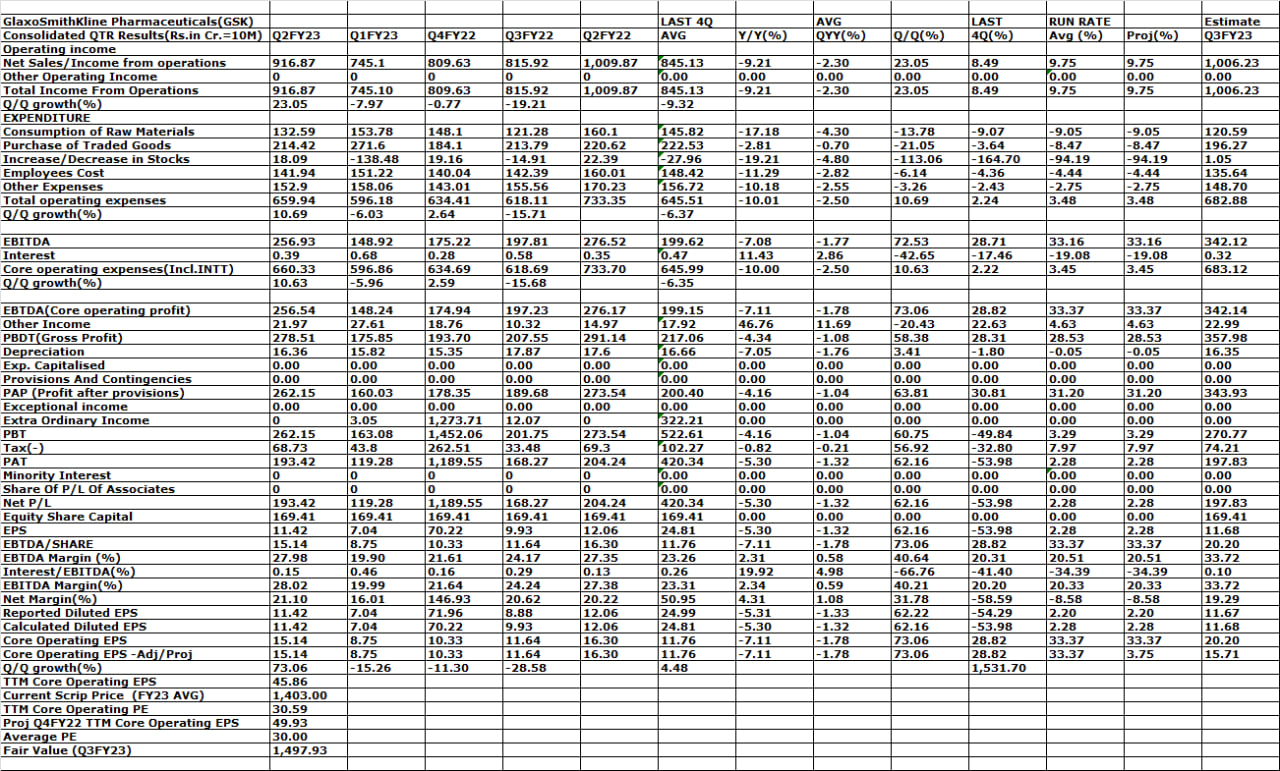 GSK India: Consolidated P/L Account: YLY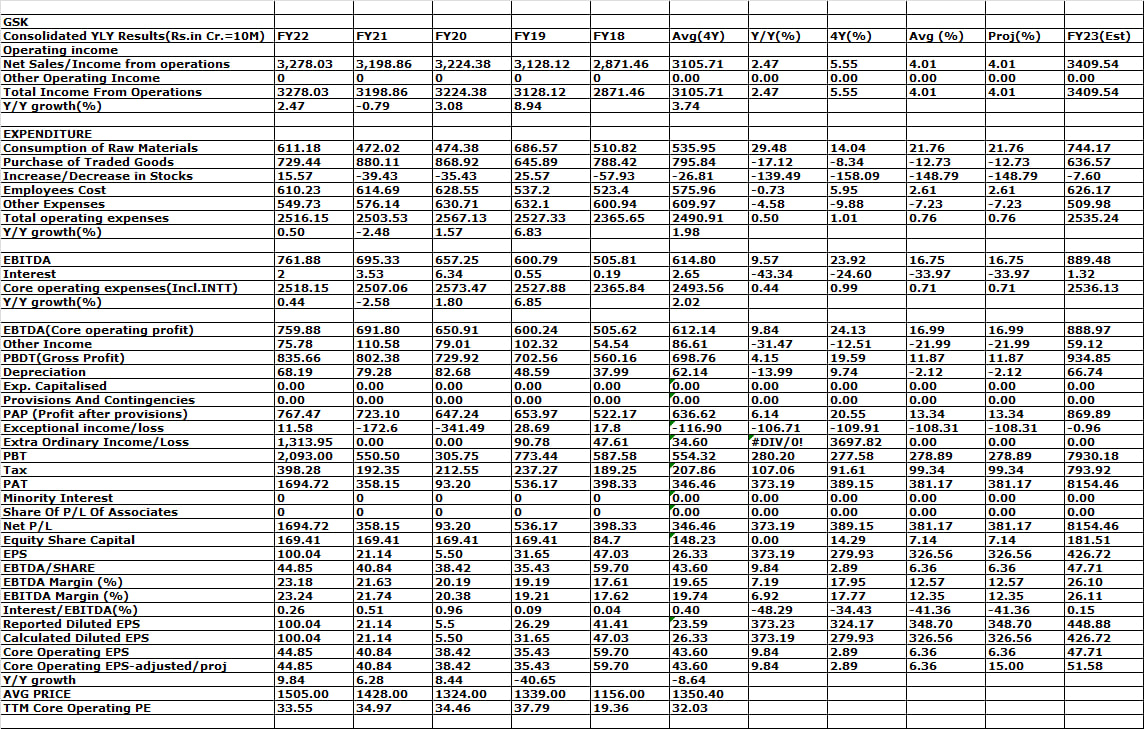 GSK: Consolidated Cash-Flow statement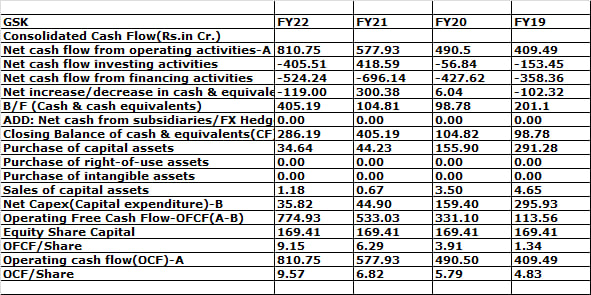 GSK: Consolidated B/S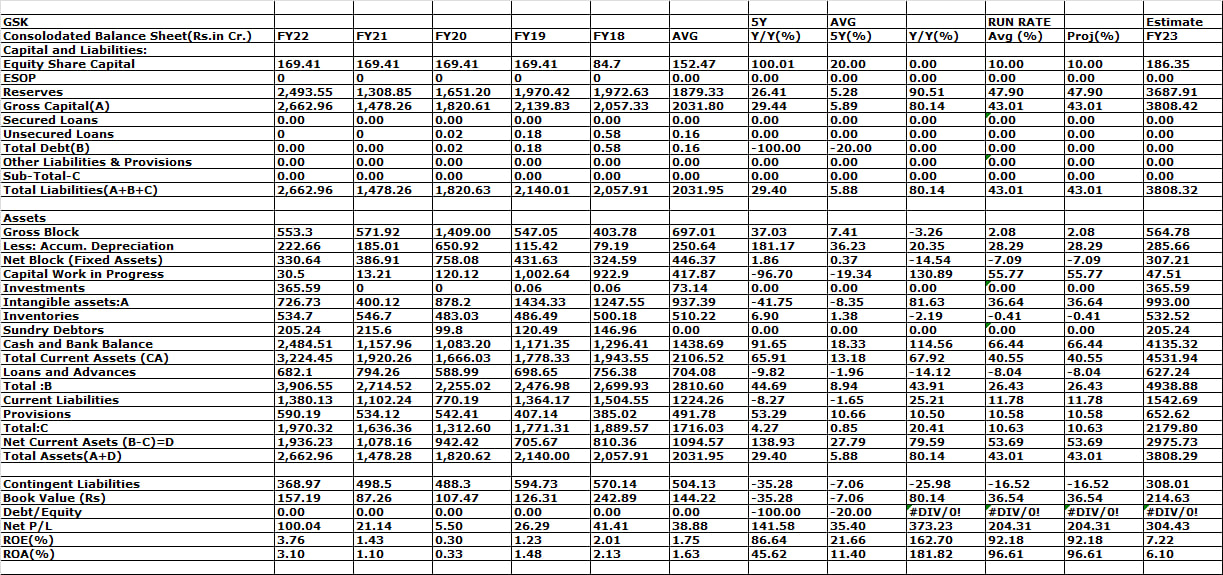 Comment Guidelines
We encourage you to use comments to engage with users, share your perspective and ask questions of authors and each other. However, in order to maintain the high level of discourse we've all come to value and expect, please keep the following criteria in mind:
Enrich

the conversation

Stay focused and on track.

Only post material that's relevant to the topic being discussed.

Be respectful.

Even negative opinions can be framed positively and diplomatically.

Use standard writing style.

Include punctuation and upper and lower cases.

NOTE

: Spam and/or promotional messages and links within a comment will be removed

Avoid profanity, slander or personal attacks

directed at an author or another user.
Don't Monopolize the Conversation. We appreciate passion and conviction, but we also believe strongly in giving everyone a chance to air their thoughts. Therefore, in addition to civil interaction, we expect commenters to offer their opinions succinctly and thoughtfully, but not so repeatedly that others are annoyed or offended. If we receive complaints about individuals who take over a thread or forum, we reserve the right to ban them from the site, without recourse.
Only English comments will be allowed.
Perpetrators of spam or abuse will be deleted from the site and prohibited from future registration at Investing.com's discretion.